Kurdish Flag Spray-painted on 7th Century BC Assyrian Relief
Posted 2016-02-23 07:31 GMT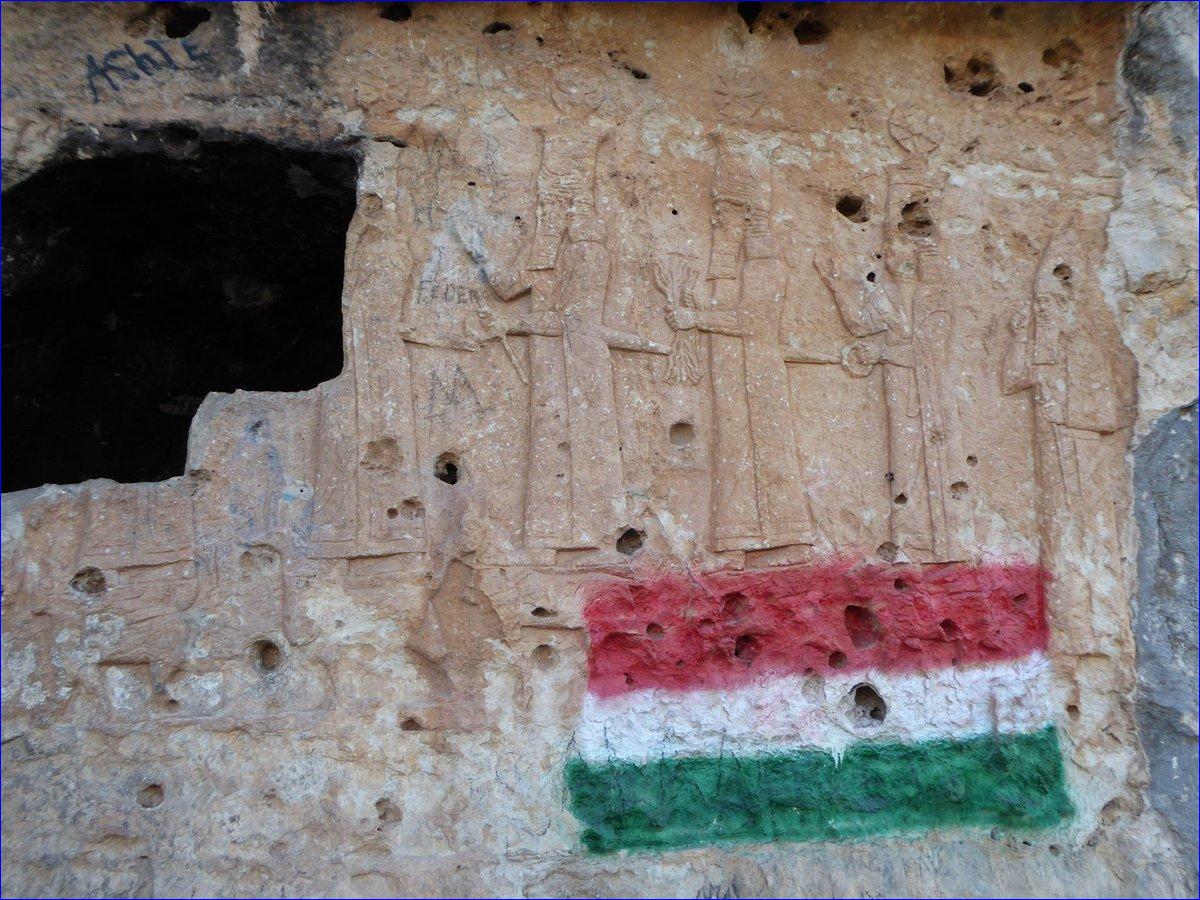 (AINA) -- A 7th century B.C. Assyrian archaeological site in north Iraq has been vandalized. A picture posted on the twitter account of a Kurdish man shows a Kurdish flag spray-painted on the nearly 3,000 year old relief. The site is known as the Maltai relief site and it was carved during the reign of Assyrian king Sennacherib in the 7th century BC. It is located near the city of Dohuk (Assyrian Noohadra).
Related: Timeline of ISIS in Iraq
Related: Attacks on Assyrians in Syria
The site sits above the village of Maltai, a suburb of Dohuk, and includes four panels of rock-cut reliefs depicting Assyrian king Sennacherib (705-681 BC) conversing with the gods. The village of Maltai in the valley below contains a huge tel (archaeological mound) and two ancient Assyrian church ruins, from the 8th and 10th centuries A.D.
Maltai has been an Assyrian settlement for over 2,700 years. Its name comes from the Assyrian word ma'altha, meaning "the entrance", since it gave the ancient Assyrians access into the more rugged mountains to the north. Between 497 and 1281, it served as the center of a diocese of the Assyrian Church of the East until as late as 1318. Afterwards, Maltai remained an Assyrian village, and there are still a handful of its original families remaining in the now suburb of ever-expanding Dohuk.
Assyrian archaeological sites have suffered severe damage and destruction in the past few years, both in Iraq and Syria. In Iraq ISIS has destroyed the ancient cities of Nimrud and Khorsabad, the walls of Nineveh, the 1400 year-old St. Elijah's Assyrian monastery, the oldest in Iraq, St. George Monastery in Mosul, Mar Behnam near Qaraqosh (Assyrian Baghdede), as well as dozens of churches.
Related: Church Bombings in Iraq Since 2004
In Syria ISIS has destroyed Assyrian churches, monasteries and archaeological sites.
Historical information provided by Dr. Nicholas Al-Jeloo, University of Melbourne.