Assyrians Fleeing Hasaka, Syria
By Bar Daisan
Posted 2015-07-01 00:26 GMT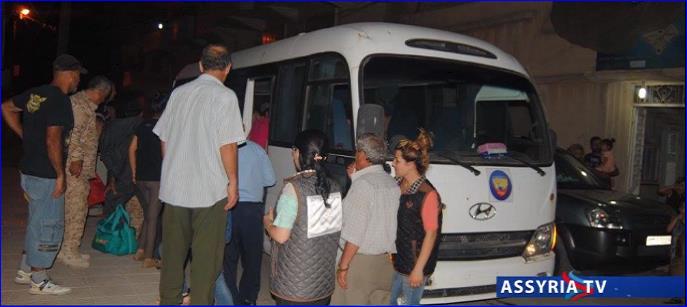 Qamishle, Syria (AINA) -- After some fighting close to the Syrian city of Hasaka in northern Syria, ISIS entered some neighborhoods of the city on June 25. More than 2,000 Assyrian Christian families are among those who escaped to Qamishle via the Turkish border town Nusaybin. The refugees are sheltered in various Churches, schools and private houses of the city. Hundreds were sheltered in the villages of Derik and Derbesiye.
See Attacks on Assyrians in Syria
Among those who fled to Qamishle Hasakah are hundreds of Assyrian families who were driven from the 35 Assyrian villages on the Khabur villages on February 23, when ISIS attacked the villages.
According to a report by AssyriaTV, the Patriarch of the Syrian Orthodox Church, Ignatius Afram II, arrived Saturday, June 27 in Qamishle to receive and encourage the refugees. Two days earlier the Patriarch attended and delived the opening speech at an academic conference organised by the Free University of Berlin on the genocide of 1915. Ironically, all the Christians who are now fleeing IS are descendants of those who survived the genocide during the late Ottoman Empire in 1915-18.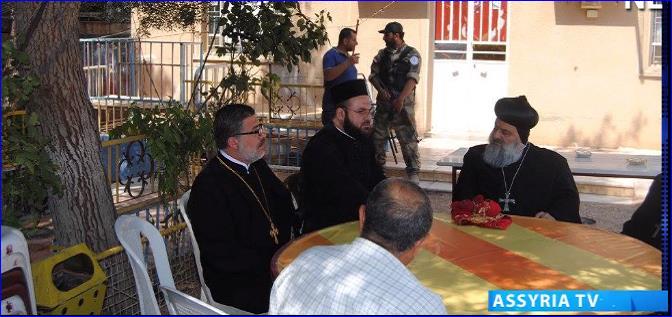 Speaking to the FIDES news agency, Archbishop Jacques Behnan Hindo, head of the Syrian Catholic eparchy in Hasaka, said:
The government army is currently gaining ground, with much difficulty, as fighting takes place in an urban environment. On the other hand, the Kurdish militias in the region have responded to the raids of Daesh only when the jihadists tried to attack the Kurdish districts, concentrated in the eastern part of the city. Until that moment the government had not provided support to the army. One must also point out that a part of the local population is on the militants' side. When these arrived in the south-eastern district of al-Nachwa, women and children were asked to leave the city. But young boys and adults remained, and have sided with Daesh. And now that very large neighborhood is at the center of the most violent clashes between government forces and those of the so-called Islamic State.
The situation is reminescent of the dramatic situation in Mosul in June 2014, when 50,000 Assyrians fled as ISIS took over of Iraq's second-largest city.
See Timeline of ISIS in Iraq