Assyrians Demonstrate in Istanbul
Posted 2015-03-16 03:19 GMT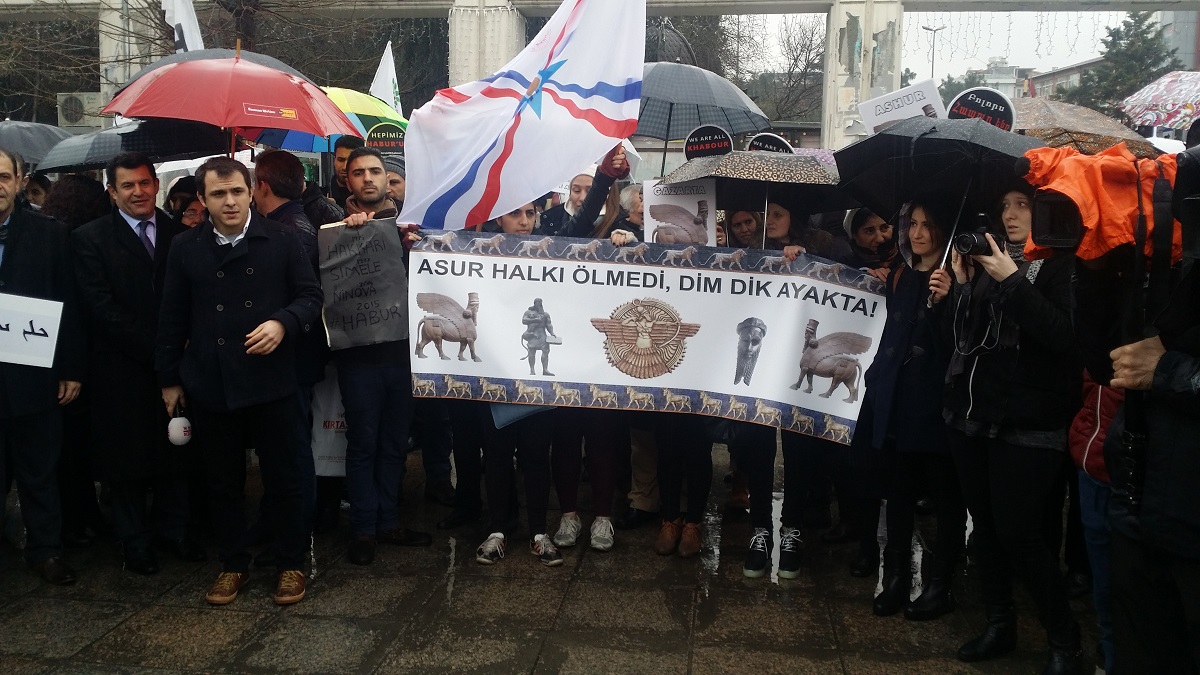 (AINA) -- Assyrian held a demonstration yesterday in Istanbul's Freedom Square to protest ISIS attacks on Assyrians in Khabur, Syria.
Despite the heavy rain, more than 200 people participated in the protest in the center of the city. A minute of silence remembering particularly the victims of the attacks in Kahbur was conducted. Erol Dora, the Assyrian member of Turkish Parliament and deputy of the People's Democratic Party (HDP), attended the demonstration.
In his speech Mr. Dora criticized Turkey's silence on what is happening in Khabur, Syria.
The Alevi-Bektashi Federation and Nor Zartonk along with DUR DE platform expressed their support against Muslim extremist. The protesters displayed signs saying "Assyrian people are not alone" and "Killer IS, get out of the Middle East!" and carried pictures of ancient Assyrian sculptures that were recently destroyed by ISIS.
In Iraq ISIS destroyed a third Assyrian archaeological site, the city of Khorsabad, more than 2700 years old. This comes on the heels of ISIS destroying the city of Nimrud, the Museum of Mosul, and the walls of the city of Nineveh.
In Syria, ISIS is still holding over 300 Assyrians who were captured in the first attacks on the Assyrian villages on February 23, which drove 3,000 Assyrians away, never to return. 6 months before that ISIS drove 200,000 Assyrians out of their homes in the Nineveh Plain in north Iraq, and they still have not returned, and most likely never will.
As they were being released, ISIS told the Assyrians from Syria to never return to their villages, else they would be killed. They are in Hasaka with only the clothes on their backs, all of their possessions lost forever, unreachable in their ISIS occupied village.
But the destruction of ancient Assyrian cities and artifacts in Iraq and Syria is the most devastating -- because of its symbolism. In destroying Assyrian archaeological and historical sites, ISIS is striking at the very root of Assyrian civilization, erasing all traces of their heritage and extirpating them from their lands.