Yazidi Member of Iraq's Parliament Calls for Arming Yazidis and Assyrians
Posted 2014-09-15 07:56 GMT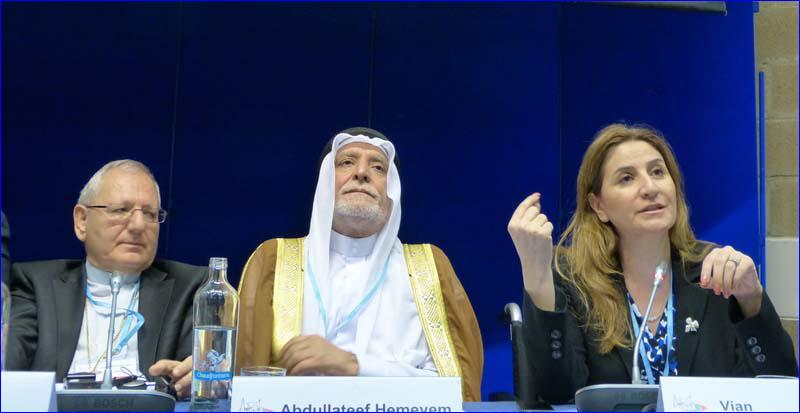 (AINA) -- Vian Dakheel, the Yazidi member of Iraq's Parliament, whose impassioned speech in the Parliament brought attention to the plight of the Yazidis (AINA 2014-08-06), called on the international community to arm Yazidis and Assyrian Christians to enable them to defend themselves, and repeated her demand for international military strikes on ISIS, and the deployment of an international protection force to be enable the Yazidis and Assyrians to return to their homes.
Dakheel made her remarks at a session devoted to the future of Iraq at a conference on religious and cultural dialogue, held in Antwerp, Belgium, on September 9. The session was headed by the Deputy Foreign Minister of Italy, Mario Baccini, and attended by His Beatitude Mar Louis Raphael Sako, Patriarch of the Chaldean Church of Babylon, Mr. Jawad al-Khoei (Iraqi Shi'ite) from Al-Khoei Foundation, Nineveh Provincial Council member Anwar Hidayat, Minister of Religions and Endowment of the Kurdish Regional Government, Professor Joseph Jacob and Sheikh Abdul Latif Mohammed (Iraqi Sunni).
Dakheel said "We want the powerful governments to free our victims and kidnapped women, we want to go back to our homes but only with international protection because the treachery was perpetrated by the closest people to us."
Asked about concerns that arming minorities might lead to more chaos and murder in Iraq, she said "Give arms to the peaceful and not to criminals and terrorists and not to ISIS. Give weapons to the pacifists to defend themselves. Give to the peaceful Yazidis, peaceful Christians. Give it to the Kurds. Have you ever of a Kurd blowing himself up? Have you ever heard of a Yazidi killing anyone? Have you ever heard of a Christian raping anyone? Give it to us to defend ourselves. We always defended ourselves but we have no weapons now, while our attackers possess arms."
Dakheel demanded international military strikes to eliminate ISIS, and said "We support the existence of an international coalition to give ISIS a strong military strike because if the great powers do not intervene and strike ISIS we cannot free ourselves from this deadly monster which today is in Iraq, but tomorrow will be in the whole region and will extend to your countries. We need to come together because Iraq and the Kurdistan region alone will not be able to stand alone against this terrorist organization."
She concluded her speech by turning to Sheikh Abdullah Muhammad (a Sunni), saying "You do not accept American strikes on ISIS until you achieve your political rights...you want to get your rights at the expense of our blood."
The city of Antwerp hosted the Conference of Religions and Cultures for the period from September 7-9. Organized by the Foundation of Saint Egidio (Egidio Sant') on the occasion of the centenary of the First World War, and under the slogan (peace is the future). The conference was attended by representatives of Christians, Muslims, Jews, Buddhists and others. Topics included religions and violence, believers and secularists in the world, the search for peace, the martyrs of our time, religions and human dignity, Christian unity and peace, immigration, conflict and the media.