Priest Awaits Trial for Holocaust Acknowledgment
Posted 2000-12-04 17:00 GMT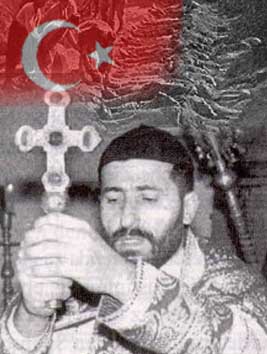 (AINA) -- Eighteen days before his trial, Fr. Yusuf Akbulut remains imprisoned under house arrest in Diyarbakir, Turkey for acknowledging the combined genocide of Assyrians and Armenians in the 1915 Holocaust (AINA11-23-2000 ). Fr. Yusuf had been branded a traitor and his remarks treasonous by reporters in the Turkish newspaper in early October, 2000. Fr. Yusuf's trial is reportedly scheduled for December 21, 2000 in the Devlet Guvenlik Mahkemesi or State Security Court associated with the Turkish military. Although Fr. Yusuf's is now allowed contact with others and has legal representation, his house arrest is believed to be potentially more perilous than his earlier direct imprisonment since he is now vulnerable to vigilante or rogue security force attacks.
According to Mr. Jim Dehart of the U.S. State Department's Turkey section, Fr. Yusuf has been incarcerated under house arrest under article 312 of Turkish law for "inciting racial enmity." Mr. Dehart acknowledged that the US State Department information was limited and dependent upon the US Consul office in Turkey which in turn ostensibly received information from the Syriac Orthodox Church hierarchy in Turkey.
The high profile given to this case in Turkey has led to generalized apprehension on the part of the Church hierarchy in Turkey out of outright fear to not provoke further, more generalized reprisals by Turkish security forces. With the collective intimidation of the remaining Assyrian community, information emerging from Turkey itself remains potentially tainted, censored and incomplete. The Assyrian community in Turkey now finds itself hard pressed to even vocally protest Fr. Yusuf's arrest or the accompanying threats against the community as a whole.
"discrimination of the worst kind."
Not surprisingly, international attention on Fr. Yusuf's case has focused still greater scrutiny on Turkey's abysmal human rights record. Notably, five members of the German parliament including Monika Brudlewsky, Angelika Graf, and Claudia Roth last week visited Turkey to evaluate the human rights situation. One of the parliamentarians, Ms. Brudlewsky, met with Fr. Yusuf in his home and reported him quite fearful and intimidated. Following their investigation, the group summarized the plight of Christians in Turkey by saying they suffered "discrimination of the worst kind."
Ms. Brudlewsky's heightened concern regarding the outcome of Fr. Yusuf's trial has led her to plan to return as an official observer of Fr. Yusuf"s trial on behalf of the German government. Accompanying Ms. Brudlewsky will be Ms. Gabriele Yonan, a German national who is an internationally renowned scholar and author on the Assyrian Holocaust of 1915.Additional European officials to observe the trial include Swedish parliament members Carina Hägg, the head of Sweden's foreign commission, and Yilmaz Kerimo, who is of Assyrian/Syriac origin.
"US Congressional support for this case is expected..."
The Swedish Foreign Minister, Ms. Ann Lund, is also expected to make enquiries on the fate of Christian minorities in Turkey while visiting Ankara. At the grassroots level, Assyrians throughout Europe and North America continue to vociferously denounce Turkey's arrest of Fr. Yusuf. In the US, it is hoped that the Assyrian campaign may lead several members of the US Congress to formally request Fr. Yusuf's unconditional release. US Congressional support for this case is expected to include a host of representatives still fuming at Turkey's hardball tactics and political blackmail during deliberations over the Armenian Genocide Resolution, HR 596, earlier this year.
In recent years, Turkey's tarnished human rights record has often been cited as a major impediment to entry into the European Union. The potentially devestating effects of such high profile human rights cases on Turkish standing have not escaped Turkish officials as they have shriekingly struggled to denounce those critical of their handling of Fr. Yusuf's case. In one instance, a Turkish tabloid "Takvim" labeled the German parliamentarians "slanderers" and demanded "make these slanderers shut up!"
"reports of threats presumably by Turks against Assyrian activists advocating on behalf of Fr. Yusuf in the US"
Of still greater concern, though, have been reports of threats by Turks against Assyrian activists advocating on behalf of Fr. Yusuf in the US. The seriousness of the threats has already led to investigations by local police and are likely to provoke a Federal Bureau of Investigation (FBI) probe for possible links to Turkish State sponsored intimidation and terrorism of American citizens. In a similar situation prior to the Gulf War, the FBI investigated reports of Iraqi threats against Mr. Sargon Dadesho of the Assyrian National Congress.