Assad Fighters Hiding in Turkey Still Fear Persecution for Being Christians, Nuri Kino Reports
By Nuri Kino
Posted 2013-04-10 20:45 GMT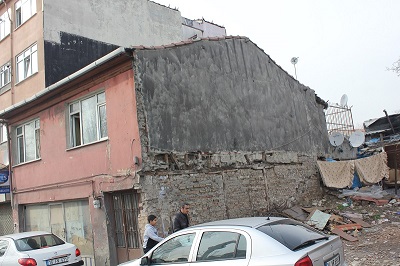 (AINA) -- Nuri Kino, journalist and author, has met and interviewed nearly one hundred Christian Syrian refugees (AINA 2-8-2013). He gives voice to this otherwise silent minority. In an apartment in Istanbul he gets an exclusive interview with young Christian Syrian men who all are waiting to be smuggled to Europe. Twenty-one men between 19 and 29 years of age and all of them have left the army and the war. Some fled during their leave of absence. Others have paid a lot of money to get leave of absence and then fled. All of them are Assyrians/Syriacs.
"We Christians are stuck between the three big combatants - the Syrian army, The Free Syrian army and the Sefalists. The two latter want to evacuate Syria of Christians and permit us to cross the borders. That is why we are here today. And none of us want to be part of a war. We don't want to fight or kill."
Nuri Kino's comprehensive 40-page report about Syrian Christians in Lebanon, Between the Barbed Wire, is available here.
---
The road runs along a wall from the Byzantine era. There are two of us in one car, Ester and I. In the other car just in front of us are Maha and Jacob. I've been accompanying them since I arrived in Istanbul three days ago. Right now we're heading to one of the apartments they rent for refugees. Maha has cooked for them, which she and the others do once a week. On other days the refugees must cook for themselves. Ester has filled the fridge and the kitchen cabinets. She does that every second week. The three philanthropists collect money for the food among friends and relatives and a Swedish based Syriac-Orthodox organization provides the rent.
It's six o'clock in the evening and it's getting chilly. There are no parking places and Ester and the other two are delayed. I jump out of the car to take pictures of the apartment building. It's really a hovel. Nearby, the kids are playing football and basketball in modern up-to-date facilities. It feels as if time has stood still exclusively for this apartment house.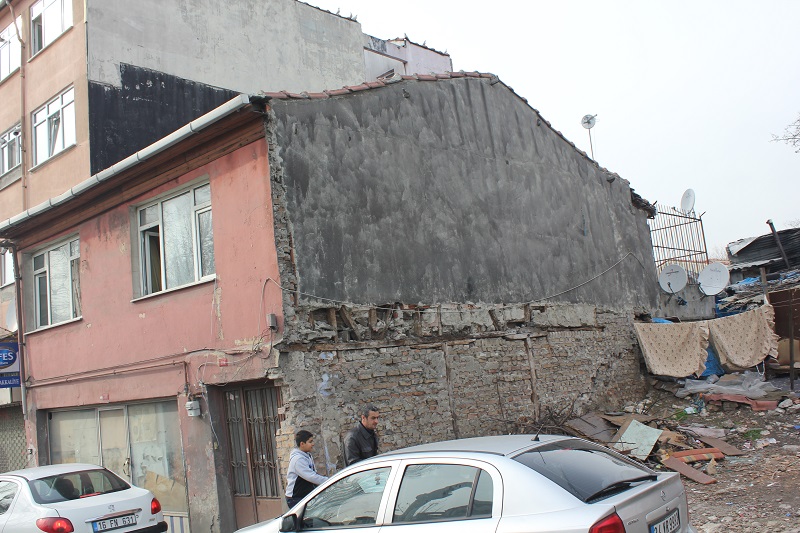 "Nobody has lived here for many years. When we started to search for apartments a family in my parish told us they had inherited an empty house," Ester says.
We go into the house, first there is a small hallway, about 50 centimeters wide. Two young men in their twenties show up to help Maha, Ester and Jacob with cooking. On the first floor there is a kitchen and a bathroom. A third man takes me up to the second floor.
Approximately ten men sit around a table in the narrow sitting room. Five of them play cards and the others cheer on their favorites. They stand up to greet me and are happy to get a visit from us. They interrupt each other all the time and all of them are anxious to tell their own story and what they have experienced, first in Syria and now in Turkey and the neighboring countries Greece and Bulgaria. One of them takes command, he is a bit older than the others. Twenty-seven years old, he says. He used to be an officer in the Syrian army but deserted three months ago. The crowd consists of another officer and the others, all from the army; they were simple soldiers. I count the men to fifteen.
Fifteen men between 19 and 29 years of age and all of them have left the army and the war. Some fled during their leave of absence. Others paid a lot of money to get leave of absence and then fled. All of them are Assyrians/Syriacs. They pepper me with information. Their frustration, fear and anxiety are so strong it's as if I could touch the emotions with my bare hands.
"We Christians are stuck between the three big combatants - the Syrian army, The Free Syrian army and the Sefalists. The two latter want to evacuate Syria of Christians and permit us to cross the borders. That is why we are here today. And none of us want to be part of a war. We don't want to fight or kill."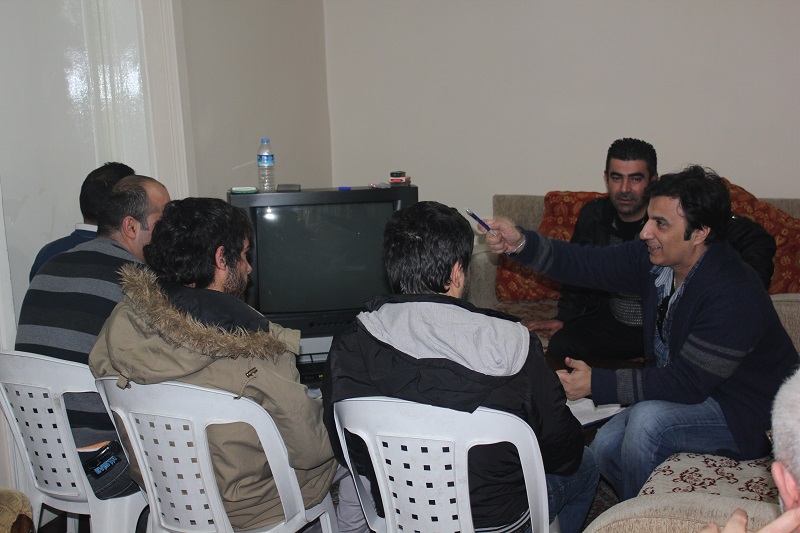 Christians in Syria are being squeezed between major ethnic groups and religious affiliations. In recent decades there has not been any significant religious conflict in Syria. Syrian Christians are nrealy 12 percent of the country's population of 22 million. President Bashar al-Assad family are Alawites, a Shiite branch of Islam which is also a minority and constitutes 12 percent of Syria's population. The majority of Syria's population are Sunni Muslims. Their desire for better representation in government and other factors sparked the revolution.
The Assad government stood as a guarantor to ensure religious minorities, such as Christians, would not be persecuted. When the war started most ethnic or religious groups organized their own militias or armies. Christians did not. They only have small pockets of armed guards and now they have become a target for criminals and fundamentalists. These are the same repercussions we saw in Iraq ten years ago. Christians are being kidnapped, raped, decapitated and fleeing simply because they are non-Muslims. In Iraq half of its Christian population -- more than half a million - have fled the country. Now Christian leaders fear that the same thing will happen in Syria, and Christian minorities who have lived in the country for 2000 years are fleeing en masse.
We can smell the food that the philanthropists brought. Maha tells two of them to get plates and cutlery. I suggest that we continue the interview after the meal. They laugh. I don't see why. "Do you really believe that the memories will leave us for one minute? We have no problem talking while we eat. Look here", Sargon says. He is nineteen and pulls up a pant leg. He has a gun shot in his shank and shows a mark under the knee. That's a mark from dog bites. "It's ok, I received a rabies shot from the Turkish border police."
That occurred the third time he tried to get out of Turkey and into the EU. At first he was supposed to be smuggled to Greece but the rubber boat he and the other refugees travelled in sank just a hundred meters away from the Turkish coast. They were too many -- twenty refugees. Half of them could swim and helped the rest ashore. The smugglers had already taken off by the time they came ashore in Turkey. It was three o'clock in the morning, below zero and dark. They were wet and soggy. They had to walk into the wood and it was a few hours before they found a road and were picked up by Turkish border police.
The second time he tried to leave was to Bulgaria. At the border they set the dogs on him. "It was as if they hadn't eaten for months. I was sure they would kill me." Once again he was picked up by the Turkish border police and again put in refugee custody.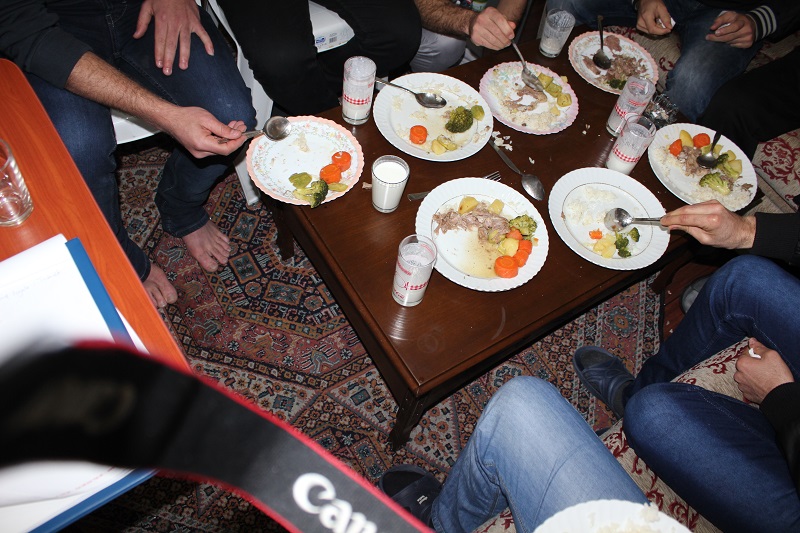 The third time was the charm, he thought, when he was stopped at the Istanbul airport with a fake passport. They put him in police custody at the airport before being sent to refugee custody. Smuggling has so far cost Sargon more than 10,000 Euros but he will keep trying. What else can he do? He certainly can not return to Syria.
The meal is on the table. Maha and Ester are entertaining the young Syrian men. "It's important to make them laugh -- it makes them feel better," Jacob whispers. While half of the men eat, the others rest in two bedrooms of 9 square meter each. In one room there are 7 bunk beds and 4 mattresses. Eleven men sleep in this room. I imagine the four other men sleep in the second room. "No, we're not fifteen anymore. All together we are twenty one -- more men have arrived." Sargon tells me.
One bed contains piles of clothes and bedding sheets. Under the bed I see a lot of shoes. In the upper bunk lies a man who excuses himself for not being social. He is tired and not feeling well. He managed to get into Greece, he believes any way. But there he and the others were robbed of everything. Only a few minutes later they were arrested by the border police and sent back to Turkey. He doesn't have a penny left. Even worse, his parents and younger siblings are having a very tough time in Syria. They are constantly in danger and barely have money for food since the father lost his job because of the war. The factory he worked in was blown up.
Maha, Ester and Jacob have provided them with cell phones to be able to call the families at home when the phone system in Syria works. The man lying in bed has just talked to his mother at home. The bed squeaks when he jumps out of it. His upper arm is blue. "I was abused and beaten by the Jendarma, the Turkish police, when we were sent back, but I gave back," he proudly answers when I ask him why he had bruises.
We are suppossed to have tea in the narrow sitting room but there is no place for us there because almost all of them have gathered here now. I want to sit on the floor but they won't allow me. Instead we end up nearly sitting on top of each other. Maha and I smile at the quantity of sugar the Syrians put in their tea. "It's sugar with tea and not the other way around," she says laughing.
Every single man is in contact with a refugee smuggler. Either because they still want to get to Europe - most of them want to go to Sweden -- or because they're trying to get their money back after the failure to escape. They also search for new smugglers, who will be better than the first, professionals who can falsify documents and have better smuggling routes.
When they ask me about the refugees arriving in my home town Södertälje, Sweden, it appears I have met some of them. The questions flow. How are they and what are they doing, those who have arrived? The men in Istanbul want to know about both Sweden and Södertälje. One changes subject -- he is more interested in legal ways out of Turkey and asks if I have any information about UNHCR, the UN refugee organ. I promise to e-mail the press department of the organization and ask whether the Syrians have permission to register in Ankara or not. And if so -- can they hope for resettlement to a third country and can they count as ratio refugees. Every year many countries receive a certain amount of refugees via UNCHR's ratio refugee system.
Suddenly Maha, Ester and Jacob need to hurry for the next apartment that has families with small children. The stories are the same but this time sadder. Here the children have been involved with smuggling attempts, abused, and many other terrible things. Two young women in their twenties, sisters, cry while they tell me how their trip started in Damascus. How they were threatened by Islamists who blew up their hair salon. To run beauty salons is against Islam, the abusers claimed. One sister shows me a text message with Islamic slogans. That message was sent to all the Christians in the area she lived in. She continues to cry as she tells her story about Greece, Italy and Turkey again.
When we're in the car Ester says they do just fine, at least it is reasonable, now that the Christian refugees number around one hundred. But what happens if the war spreads and the Christians flee in hundreds and thousands? That is what happened in Iraq.
Jacob explains why Christian refugees prefer urban areas. "Christians refuse to live with Muslims in refugee camps. They are considered as Bashar al-Assad followers and are being harassed and in some cases abused. The Bashar-regime didn't oppress Christians they were treated quite well. Islamists have kidnapped the revolution. They will never allow Christians to stay in Syria. The Christian exodus from Iraq repeats once again."