Assyrian Delegation Meets Members of Dutch Parliament
Posted 2019-06-20 05:38 GMT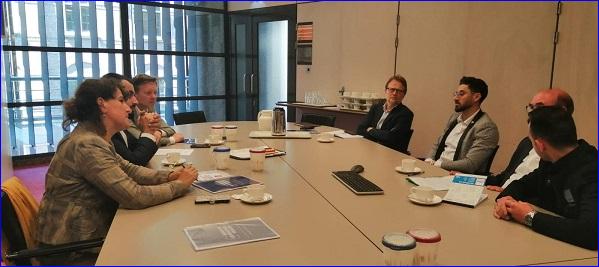 Netherlands (AINA) -- A delegation from the Assyrian Confederation of Europe (ACE) visited the Dutch parliament and presented its latest report on the situation of Assyrians on 22 May. The delegation met with several MPs from the Christian Union party who have voiced concern for the future of Assyrians in their ancestral homeland Assyria which is carved up by Iraq, Syria, Turkey and Iran.
The report, titled Struggling to breath - the systematic oppression of Assyrians, documents several human rights abuses and systematic, oppressive policies targeting Assyrians.
The delegation of Assyrians and Yezidis spoke with MP Joel Voordewind, expressing concern over the Kurdification policy being pursued by the Kurdistan Regional Government.
On January 21, 2014 the Iraq Council of Ministers approved a plan to establish three new provinces in Iraq (AINA 2014-01-25). One province would be in Fallujah, in central Iraq; a second would be in north Iraq, in Tuz Khormato; the third would also be in north Iraq, in the Nineveh Plain bordering the Kurdish areas. The Nineveh Plain has the largest population of Assyrians (also known as Chaldeans and Syriacs) in Iraq.
But the Nineveh province has yet to be established. The delegation asked Mr. Voordewind to ask the Dutch government to put pressure on the Iraqi government to establish the Assyrian province. Mr. Voordewind subsequently made an official request to the Dutch government to pressure the Iraqi government to establish the Nineveh province.
The Assyrian Confederation of Europe was established in 2016 and is based in Brussels, Belgium.