The Fate of Iraq and Assyrians
Posted 2019-05-03 23:11 GMT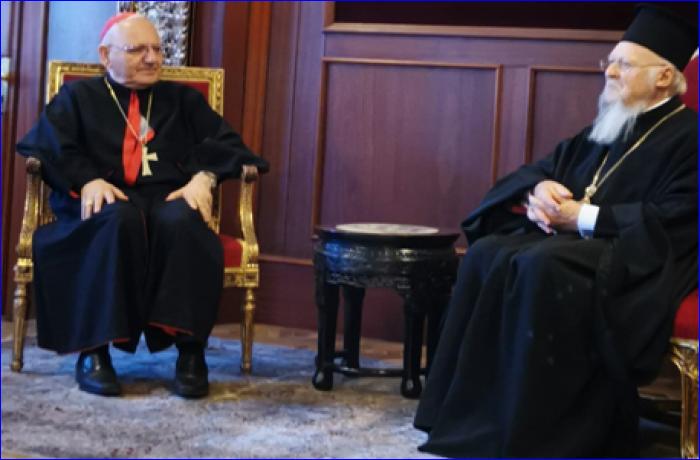 Istanbul -- The situation of Christians, the reality of Iraq's difficult journey of rebirth after decades of wars and jihadist violence, in addition to the purpose (still being studied) of unifying the celebrations of Easter. These are the themes at the center of the meeting between the Ecumenical Patriarch Bartholomew I and the Chaldean Patriarch, Card Louis Raphael Sako, who is currently in Turkey for the inaugural ceremony of the new Chaldean bishop of Diyarbakır Msgr. Ramzi Garmou.
The friendly and private meeting, as described in a note sent to AsiaNews, took place yesterday at the Fanar, the headquarters of the Orthodox ecumenical patriarchate in Istanbul. In his speech, the Chaldean primate pointed out that - in general - security in Iraq is better than in the past.
"Stronger distances", he added, need to be taken from those speeches "of hatred and violence". He then added that it is fundamental to "re-read religious thought" and present it "in a modern, moderate key" because "fundamentalism has no future".
Bartholomew I expressed his pride for the friendship established with Pope Francis, whom he has already met a dozen times in these years of his pontificate. On the question of the unity between the two Churches, the Ecumenical Patriarch emphasized that there are several Eastern Churches, and elements to be resolved in particular on the unification of Eastern celebrations. One of the obstacles, he added, is that "some Orthodox churches oppose this" and the creation of further fractures or divisions must be avoided.
Closing the meeting, the Chaldean patriarch strongly insisted on the "urgent need" to unify at least the celebrations "for the Catholic and Orthodox Churches in the Middle East", giving a renewed impulse "to their unitary presence in the region". Finally, the cardinal expressed the hope for the establishment of a joint Catholic-Orthodox committee "on ecumenism and the challenges facing Christians in the region".