Kerry Declares Islamic State Has Committed Genocide
By William Branigin, Michelle Boorstein and Carol Morello
Posted 2016-03-17 19:19 GMT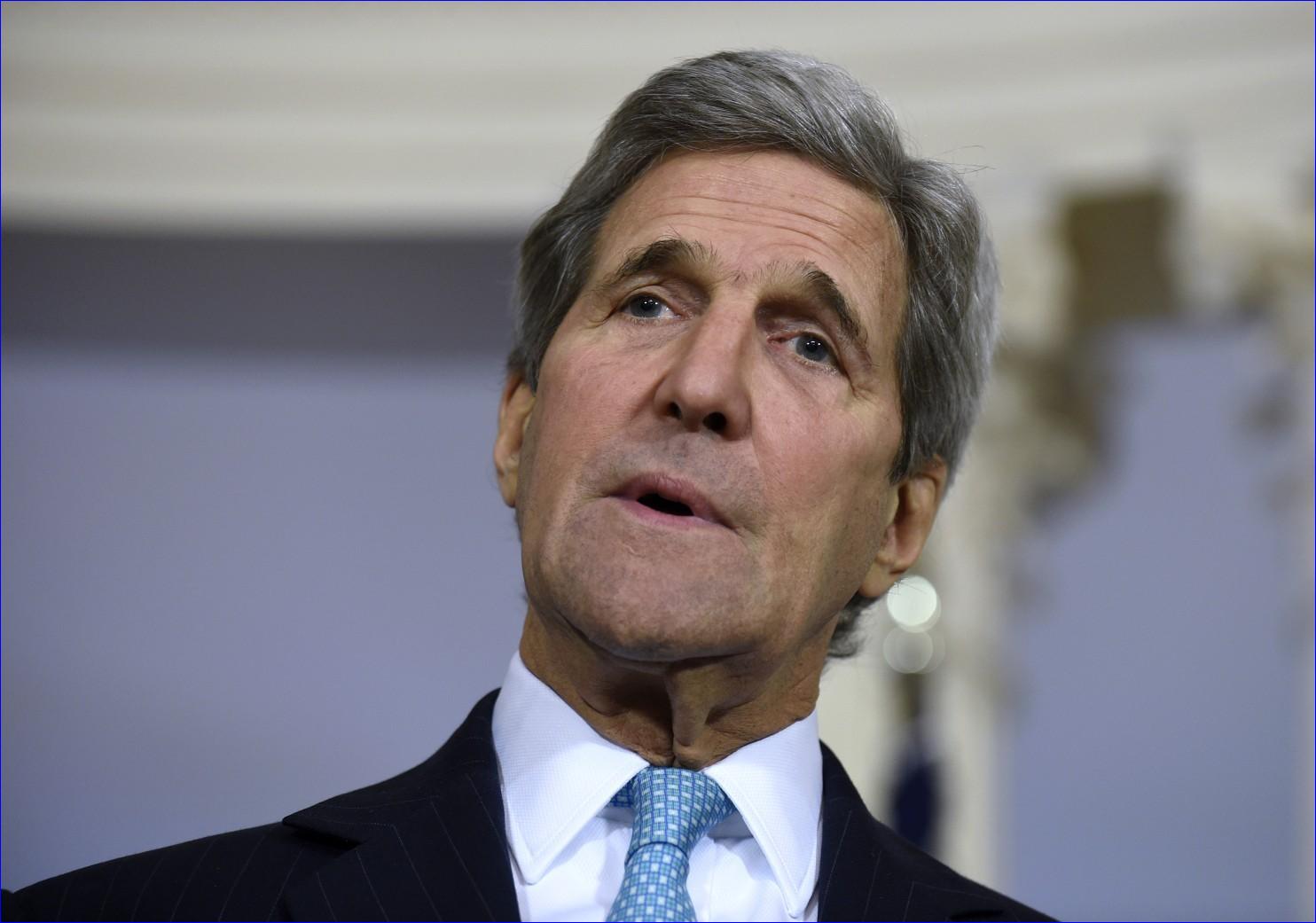 Secretary of State John F. Kerry formally declared Thursday that the Islamic State extremist group has committed genocide against Christians and other religious minorities, including Shiite Muslims, in its rampages across the Middle East. Responding to a March 17 deadline set by Congress late last year, Kerry issued a finding that largely concurred with a resolution passed unanimously Monday night by the House of Representatives declaring the Islamic State guilty of genocide. The vote was 393 to 0. Kerry said a review by the State Department and U.S. intelligence determined that Christians, Yazidis and Shiite groups are victims of genocide by the radical al-Qaeda offshoot, a Sunni Muslim group also known as ISIS, ISIL and Daesh, its Arabic acronym. In a statement read to reporters at the State Department, Kerry said that in his judgment, "Daesh is responsible for genocide" against the groups. Kerry said that "Daesh is genocidal" in its actions and overall policy and that the group "has self-defined itself as genocidal." He said, "We must hold the perpetrators accountable," adding: "Naming these crimes is important, but what is essential is to stop them." The genocide designation does not legally require the United States do anything more than what it already is doing in its military campaign against the Islamic State and in Washington's push for Syrian peace talks, said Mark Toner, deputy spokesman for the State Department.
Related: Timeline of ISIS in Iraq
Related: Attacks on Assyrians in Syria By ISIS
"It's more a moral statement," he said. "It's a recognition of what groups have gone through, suffered. It's a rallying cry for the international community. But it doesn't change our overall strategy, except to intensify what we are doing." Kerry went to great lengths to mention atrocities committed by Islamic State fighters against a broad swath of religious and ethnic minorities, including Kurds, Shiites and Turkmens, as well as Christians. That was because he does not want to fuel perceptions that the United States is engaged in a modern-day Crusade, a so-called clash of civilizations between Muslims and Christians, aides said.
Related: Genocide Against Christians in the Middle East
Kerry said that he was "neither judge nor prosecutor nor juror" on genocide and that an independent investigation must bring to light the full facts of Islamic State atrocities. But he said the United States would turn over any evidence it has to any criminal court that investigates the group. The State Department had indicated Wednesday that Kerry would miss the congressional deadline, prompting sharp criticism from lawmakers. U.S. officials said that Kerry concluded his review just hours after that announcement and that the criticism had not affected his decision, the Associated Press reported. The formal U.S. finding of Islamic State genocide is important to many Christian conservatives in the United States, giving it potential political ramifications during this highly charged election year. In late December, former secretary of state Hillary Clinton, the front-runner for the Democratic presidential nomination, said at a town hall meeting in New Hampshire that the Islamic State's depredations can be properly called "genocide." Responding to a voter's question, she said that she had held back on using the term because of its legal implications and weight but that now "I will because now we have enough evidence." Kerry's declaration Thursday appeared to mollify some congressional critics. "I commend Secretary Kerry and the State Department for making this important designation," Rep. Jeff Fortenberry (R-Neb.) said in a statement. "The genocide against Christians, Yezidis, and others is not only a grave injustice to these ancient faith communities -- it is an assault on human dignity and an attack on civilization itself. The United States has now spoken with clarity and moral authority." Fortenberry, a sponsor of the congressional resolution that passed Monday, added: "I sincerely hope that the genocide designation will raise international consciousness, end the scandal of silence, and create the preconditions for the protection and reintegration of these ancient faith communities into their ancestral homelands." Sen. Ben Sasse (R-Neb.), who introduced a similar resolution in the Senate this week, also praised Thursday's declaration. "The administration made the right call by stating the obvious truth that ISIS is responsible for genocide against Christians and other religious minorities in the Middle East," he said in a statement. "Telling the truth and condemning genocide against those who seek to worship or not worship as they see fit is a small but important step to recovering a coherent American foreign policy. This decision does not end the atrocities but it does name them." The Holocaust Memorial Museum issued a report last year saying its investigators had found evidence that Yazidis -- an ancient faith made up of mostly ethnic Kurds -- were victims of genocide in Iraq at the hands of the Islamic State. The Catholic organization Knights of Columbus last week released a 280-page research document highlighting Christians as victims of ISIS genocide. Dozens of members of the International Association of Genocide Scholars signed a document last fall saying it believed the Islamic States has perpetrated genocide against "Chaldean, Assyrian, Melkite Greek and Coptic Christians; Yazidis, Shia Muslims, Sunni Kurds and other religious groups." In his statement Thursday, Kerry said a U.S.-led coalition that has been conducting airstrikes against Islamic State targets in Iraq and Syria has helped push the militants out of 40 percent of the territory they controlled in Iraq and 20 percent of their territory in Syria. Although it is "impossible to develop a fully detailed and comprehensive picture of all that Daesh is doing," Kerry said, the U.S. review highlighted a number of cases of Islamic State atrocities. For example, he said, Islamic State fighters in August 2014 killed hundreds of Yazidis in their village in northern Iraq, trapped others on nearby Mount Sinjar and "enslaved thousands of Yazidi women and girls," raping many of them. He said the Islamic State has summarily executed Christians in Mosul, the group's main stronghold in northern Iraq, and in Libya, where the group has been making inroads. Kerry also cited the massacre of hundreds of Shiite Turkmens, an ethnic and religious minority, and the systematic destruction of antiquities, churches, monasteries and other elements of the cultural heritage of ancient communities. Recounting the story of a 14-year-old boy who was recruited by the Islamic State and sent to carry out a suicide bombing against Shiites, Kerry quoted the group as having declared that "it is a duty imposed upon us to kill them .?.?. and cleanse the land of their filth."