ISIS Crosses River in New Attacks on Assyrian Villages in Syria
Posted 2015-03-07 19:49 GMT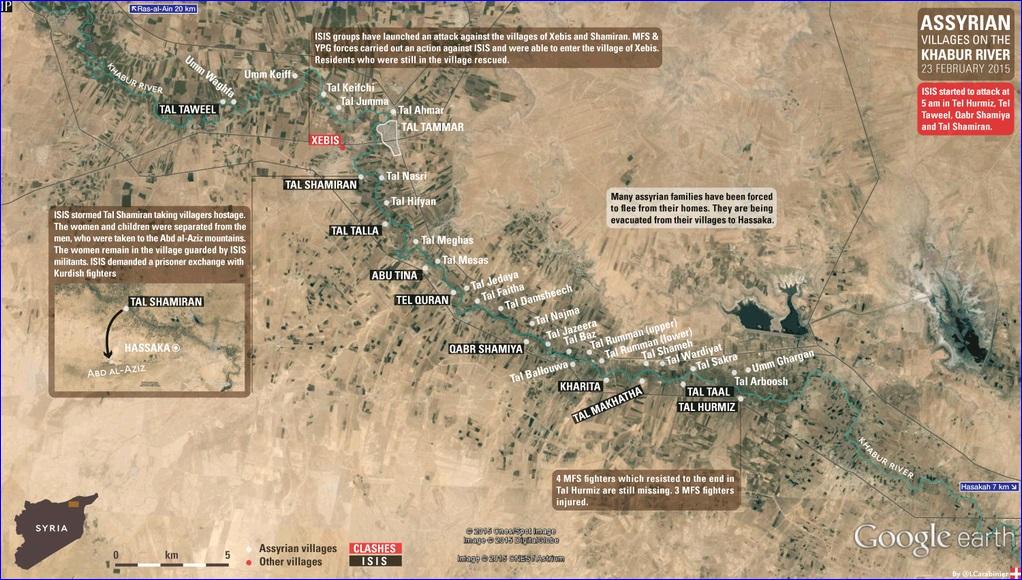 Hasaka, Syria (AINA) -- ISIS crossed to the northern side of the Khabur river in the Hasaka province of Syria At 2 A.M. this morning and launched fierce attacks on several villages. ISIS fighters crossed through the village of Tel Maghas and Tel Nasri and began fighting with Kurdish and Assyrian fighters near the Arab village of Rgouba, which is near Tel Maghas, where Kurdish fighters maintain a checkpoint.
Heavy weapons and troops are streaming from the ISIS stronghold at Mount Abdul Aziz for a major assault on the entire area. The Syriac Military Council has asked for international aid.
ISIS appears to be pushing to take control of Tel Tamar, a strategic town in the area.
The villages of Rgouba Tel Maghas and Tel Nasri briefly fell under ISIS control but were recaptured by Kurdish and Assyrian fighters after Syrian regime planes bombed bombed ISIS positions in Tel Shamiran, Oja and other locations.
There is intense street fighting in Tel Nasri. 17 Assyrian fighters are reportedly surrounded in Tel Maghas.
ISIS heavily shelled the towns of Tel Tamar, Tel Nasri, Tel Hafian, and Tel Maghas.
News of the release of the Assyrian prisoners appears to be false and may have been disinformation put out buy ISIS in advance of these attacks.
The fighting continues.
Some information contributed by Ashur Giwargis from Beirut.