Assyrian Bishop Testifies At Senate Human Rights Caucus
Posted 2014-09-13 05:14 GMT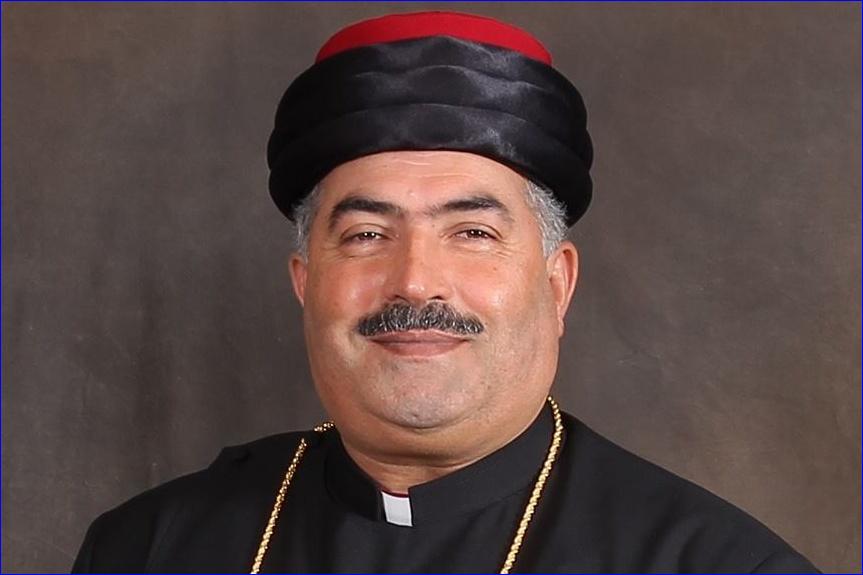 Washington (AINA) -- Two U.S. Senators launched the Senate Human Rights Caucus on Wednesday with an inaugural discussion on the Islamic State (ISIS), which has killed thousands of Yazidis, Shiites in Iraq and driven 200,000 Assyrians from their homes.
The Caucus was launched by Senators Mark Kirk (R-Ill.) and Chris Coons (D-Del.).
Testimony was given by the following:
Tom Malinowski, Assistant Secretary of State for Democracy, Human Rights and Labor
Dr. Katrina Lantos Swett from the U.S. Commission on International Religious Freedom
Pascale Warda with the Hammurabi Human Rights Organization
Manal Omar from the United States Institute of Peace
Bishop Mar Paulus Benjamin from the Holy Apostolic Catholic Assyrian Church of the East
Sarah Margon from Human Rights Watch
"The strength of ISIS in the Middle East is based on the fear and abuse of innocents," Senator Kirk said. "The Senate Human Rights Caucus will be a voice for the voiceless and oppressed around the world by bringing in the top experts and champions of those putting their lives on the line for democracy and freedom. My partner Senator Coons and I are grateful to Assistant Secretary of State Tom Malinowski for being here to launch this event, in addition to other panelists for helping to bring awareness to the atrocities that ISIS continues to unleash in the Middle East."
"America is at its best when we lead with our values and a foreign policy that prioritizes human rights," said Senator Coons. "Too often, those suffering under tyranny and oppression are forced to suffer in silence. The Senate Human Rights Caucus will amplify the voices of victims around the world and ensure that our policy responses reflect our highest values. I'm proud to co-chair this bipartisan caucus with Senator Kirk and look forward to working together to protect the rights and dignity of all."
Here is the full testimony of Bishop Paulus Benjamin:
Senator Mark Kirk,
Senator Chris Coons,
Brothers and sisters, honored guests, friends:

I come before you today to tell you of the horrors and difficulties my people, the Christians of Iraq, are undergoing.

We are an ancient people and we have suffered much. Whether we are called Assyrian, Chaldean, or Syriacs, we are one. We are a Christian people that still speak and pray in the language of Our Lord Jesus Christ. Our language and heritage are precious to us, both as Christians, and as Assyrians. We are a proud people who have endured and suffered for centuries. Yet we have still maintained our existence, both as Christians and as Assyrians or Chaldeans or Syriacs.

100 years ago we suffered our genocide and the world has today forgotten it. You cannot let this happen again. It is wrong. It is immoral. It is unacceptable.

What I have seen in Iraq should concern all of you here. It is a human tragedy that seems to be forgotten. But it cannot be forgotten. You, as human beings, as Americans, as Christians or Jews or Muslims, or even as non-believers, must reach deep into yourselves and be outraged and unaccepting of what has happened to this ancient people, who under the framework of democracy, has become almost extinct in the land of its ancestors.

Our people were driven out of their towns and villages in the Nineveh Plain, the land we have lived on for thousands of years. We were forced to abandon our villages and our churches and monasteries. Our people, with their old and young, their sick and their elderly, were forced out of their homes. Their properties were taken. Their homes robbed and looted. The crosses from the churches were taken and our churches desecrated. Over 1200 manuscripts, written hundreds of years ago, were burned.

Not only did this movement, headed by the Islamic State, want us out, but it has tried, under the very eyes of the world and the United States, erase our memory from our land, and leave our people stranded in the streets of poor towns and villages, on their way out, having lost all they have. Thousands are now displaced without sufficient food, shelter, or necessities.

Something must be done and it must be done now. As winter approaches, our people's condition grows more dire.

All of our churches and organizations and parties are united in making our stand as a people, the very natives of Iraq, and not losing our place in an Iraq that is democratic and fair and safe. Toward this end, it is important that all of us support the following:

A safe haven in the Nineveh Plain area and its surroundings;
Security that is made up of our people and supported by the international community, namely the United Nations;
Compensation for the Christian families that have lost their homes and properties and are left stranded in the streets. This should come from the authorities in Iraq -- who were not able to protect the Christians -- as well as from other governments and NGOs;
A strong role for the United Nations in Iraq, as well as the United States and other nations, to supervise the fair treatment of vulnerable minorities and peoples in Iraq.

Short of this, we will see an exodus of our people, much like witnessed a 100 years ago. This time, however, it will be the last time, and we will see an end to the last Christians who speak Aramaic. I ask you and plead with you to not let this happen.

September 10, 2014
Washington, DC
In his testimony Tom Malinowski said:
We should remember that at bottom, human rights provide a way of arranging human society so that all people have a chance to pursue their ambitions within rules that require fair play and prohibit coercion. When such rules break down, the people who rise tend to be those most willing and able to impose their will violently.
According to a joint statement issued by Senators Kirk and Coon:
In order to raise awareness on specific violations and issues, the Caucus will hold monthly staff-level briefings on key topics, as well as periodic Member-level events to boost awareness and spearhead solutions to worldwide injustices and abuses. In bringing Congressional-level attention to global human rights issues that the public may be unaware of, the Caucus will be able to provide a voice to the voiceless and work to provide a lifeline to those suffering at the hand of repressive regimes.