ISIS Forced Elderly Assyrian Couple to March Out of Baghdede
By Leah Sorith
Posted 2014-08-29 22:15 GMT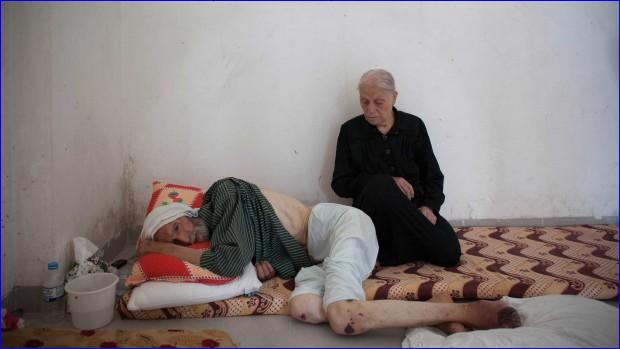 (AINA) -- 75 year-old Najib and his wife Dalal (Delilah), 72, were too old and ill to leave their town Baghdede when it fell to ISIS on August 7, when the majority of the population fled the town of over 50,000 Christians, the largest Christian city in Iraq. But two days ago they were forced to leave by ISIS gunmen.
Najib, an elderly and sickly man, had no strength to escape and would have preferred to stay in his hometown to his last days, but ISIS forced him to leave the town when he and his wife were brought across the river and left to manage on their own.
It was a long journey that lasted from 10:00 AM until midnight.
They walked for hours under the Iraqi sun, where the hot air dries the bone and temperatures often reache 45 degrees Celsius (113 Fahrenheit). Najib was barely able to stand on his feet.
ISIS stole the couple's ID cards and all their money. They did not even have any food or water for the long trek to Arbel. At the outset, Dalal barely managed to pull her ailing husband, trying to distance themselves from ISIS. They leaned on each other until Dalal passed out. A man, another Assyrian refugee, carried Najib on his back for a few hours, then a nun who was driving a primitive wagon carried Najib until they reached the Kurdish check point at which time he was transferred from there by an ambulance to Arbel.
Today I met the elderly couple and they were in the top floor of a vacant shopping center in the city of Arbel. Najib was sick and weak and could not do anything except lie down on the bed in one room with his wife, where they shared it with three other families. Najib could not even get up and go to the bathroom since he developed bruises and sores on his back and his legs after he was pulled on the road. These sores appear like gangrene in one foot, and he needs immediate medical care and medication.
One of the local Christians asked that this floor, empty of shops, be provided as the Mall for the refugees. He is one of the many local people who help the refugees as best they can. A lot of the refugees ask a lot of help from churches who are doing everything in their power to provide the basic necessities of food, water and medicine.
I came to Arbel yesterday afternoon and there were many tears on my face today, people are very worried and bewildered.
Leah Sorith is the envoy of Danmission, a Danish Foundation working to help and support the displaced people in northern Iraq through the Chaldean Church.
Translated by Rashwan Essam AlDakak. Edited by AINA. Original story on ankawa.com.