Leader of Iraq's Yazidis Issues Distress Call, Appeals for Help Against ISIS
Posted 2014-08-04 09:12 GMT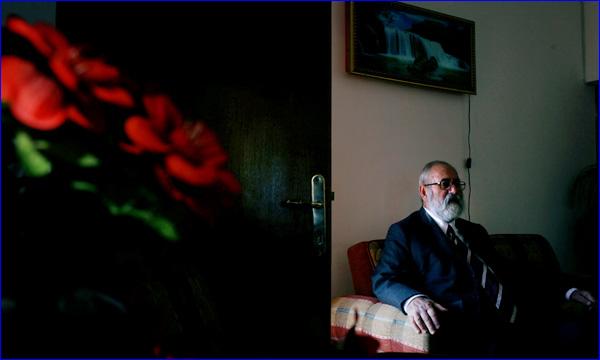 (AINA) -- The world leader of the Yazidis, Prince Tahseen Said, has issued a distress call to the world after ISIS captured the towns of Sinjar and Zumar in Iraq and began to brutally terrorize their residents, nearly all of whom are Yazidis. Nearly 40,000 Yazidis have fled from their homes and thousands have been killed.
According to Mirza Ismail, CEO of the Yezidi Human Rights Organization, Kurdish forces fled the Sinjar area and left the Yazidis defenseless, who have only AK47s to use against ISIS. They are getting hit with mortars and other heavy weapons.
In a letter posted on ankawa.com, Prince Said appeals to world leaders to come to the aid of his people. Here is the text of the letter.
August 3, 2014

Urgent distress call from the Prince of Yazidis

I appeal to Mr. Massoud Barzani, President of Kurdistan Region, and Mr. Fuad Masum, President of the Federal Republic of Iraq, and the Iraqi Government, and the Iraqi Parliament, and the Parliament of the Kurdistan Region, and the Arab League, and Mr. Ban Ki-moon, Secretary-General of the United Nations, and Mr. Barack Obama President of the United States, and the European Union and international community in general, and organizations and relevant international bodies:

I ask for aid and to lend a hand and help the people of Sinjar areas and its affiliates and villages and complexes which are home to the people of the Yazidi religion. I invite them to assume their humanitarian and nationalistic responsibilities towards them and help them in their plight and the difficult conditions in which they live today

Citizens of this religion are peaceful people who acknowledge all principles and humanitarian values and respect all religions, and never had enmity against any of their countrymen, and in the near past they even had a major humanitarian stand with their fellow residence of Mosul and Tal Afar, and today they desperately need their brethren's help.

This humanitarian appeal I make on my behalf and on behalf of the people of this religion to come to their assistance and help the Yazidi people as soon as possible.

Prince Tahseen Said
Prince of the People of the Yazidi Religion in Iraq and the world