An Assault on an Assyrian Athlete: Enough is Enough
By Aryo Makko
Posted 2009-10-27 08:08 GMT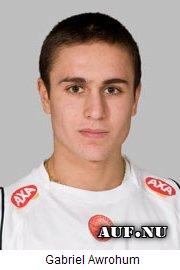 Sodertalje, Sweden (AINA) -- It has happened again -- and reached a whole new level. The institutionalized hatred against Assyrians has started to take a new shape, a more practical and sinister one. What started as Youtube clips showing how youngsters burn the Assyrian flag or multimedia messages where one could watch others urinating on it has now resulted in assault on young player of Assyriska FF.
On Saturday evening, Assyriska's young defender Gabriel Awrohum entered the sports bar O'Learys in Södertälje wearing an Assyriska FF sweatshirt. Only a few hours had passed since Assyriska had snatched the promotion to the Swedish Premier League Allsvenskan from Syrianska. Apparently, four supporters of Syrianska refused to accept the facts and approached Gabriel and demanded he take off his shirt. Gabriel's rejection resulted in a brutal assault and kicks on his head while he lay unconscious.
It has gone too far. And we cannot expect an end to the spiral of violence. Why? The answer is that we are facing institutionalized hatred and instrumentalized violence.
Over the last few decades Syrianska organizations have brought up an anti-Assyrian ideology characterized by enormous hatred against ideas, ambitions and the identity of the Assyrians. This has been spread through a number of platforms and during the past couple of years mostly through the TV-channel Suryoyo Sat. The reporting from the matches between Syrianska and Assyriska have to be labelled as nothing less but hate speeches. Bishop Benjamin Atas of the Syriac Orthodox Church in Södertälje has contributed to the legitimization of this hatred by word and deed. As of now we are still waiting for the Syrianska side to take a stand against the hatred that keeps appearing with increasing frequency.
But there is only silence.
The reason for this is the Syrianska organizations are being nourished by the very same hatred and thus are in need of it. Hatred is the main element in the ideology that Syrianska ("Aramean" in international context) identity was based on since the mid-1970s. It still is the major driving force.
It is this kind of institutionalized hatred that is the major reason behind the new level of violence that we are facing today. The above-mentioned organizations and leaders are responsible for a growing numbers of youngsters that believe in their right to hate. And the method used is well-known. The murder of Hrant Dink or the missionaries in Malatya as consequences of the creation of an atmosphere of hatred are just two examples. Hatred and violence are being encouraged by every official statement from the leadership, this includes everything from ringing the church bells to virtually criminal statements on Suryoyo Sat. Young people turning violent and assaulting a rival player are the direct consequences of such actions.
Enough is enough. The Assyrian side's silence is awkward. To hide behind the visions of Nationalist pioneer Naum Faik and his dream of unity regarding the process of Nation-building is nothing but cowardly and irresponsible.
It is enough. It's about time to stand up against extremism and ignorance.
---
Views and opinions expressed in guest editorials do not necessarily reflect the views and opinions of AINA.
Guest Editorial Policy