Assyrian, Athens and Italy
By Melissa Wright
Posted 2017-11-26 17:53 GMT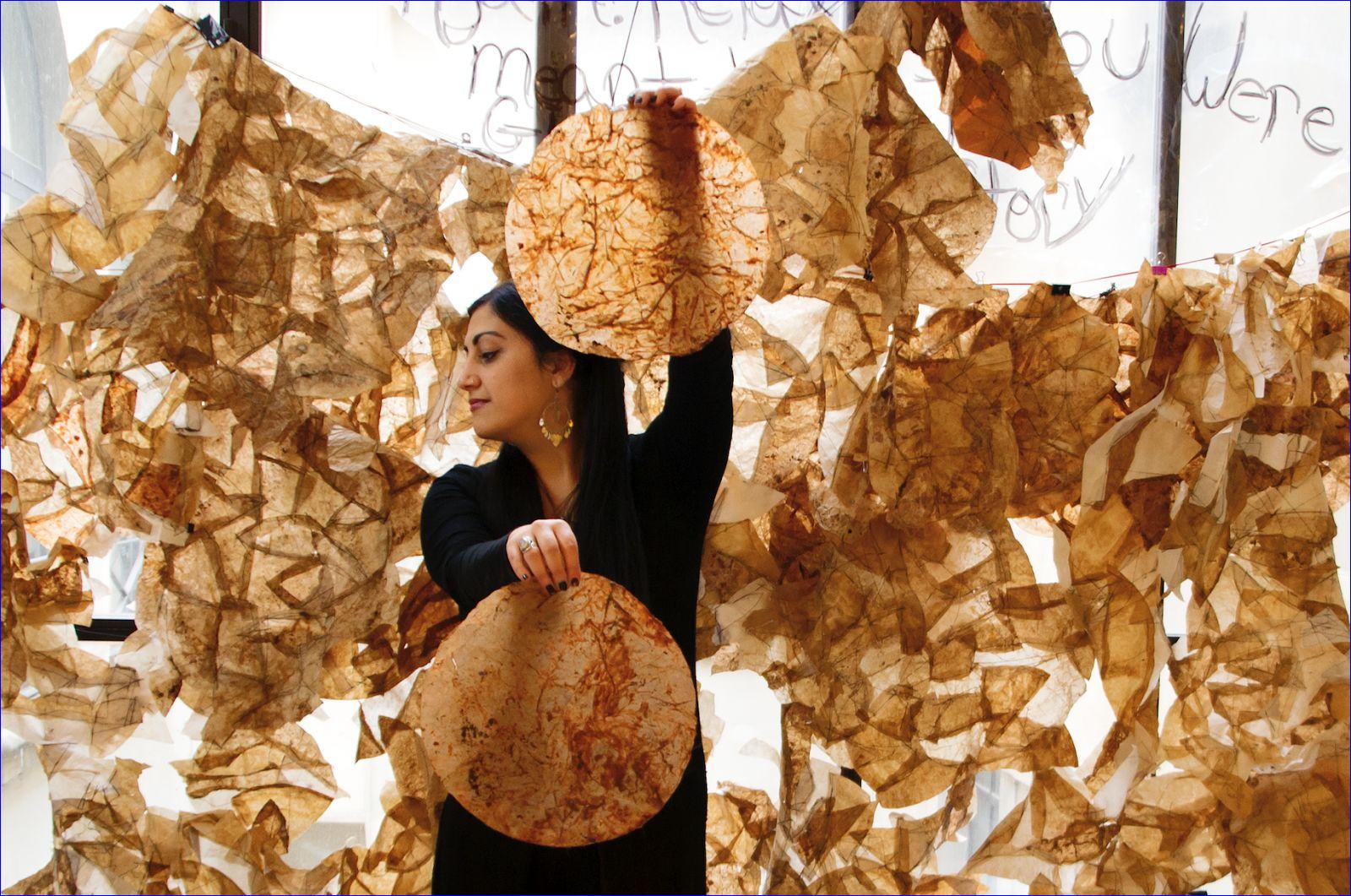 University of Georgia graduate Maria Nissan is utilizing her graduate thesis project to bring together the two cities that she loves Athens, Georgia, and her current home of Florence, Italy.
Nissan, a Master of Fine Arts student, is creating an immersive sensorial installation project. The project will be made from coffee and tea filters that she is collecting from both cities. In its final state the project will be an entire room of filters that have been sewn together to look like a tent.
"I originally started this project because I wanted to bring back a part of Athens with me to Italy," Nissan said.
Nissan Attended UGA where she earned a degree in art education and lived in Athens for six years. Living in Athens left a lasting memory on her that she says can't compete with any other place that she visits.
"I was a flight attendant and have travelled to nine countries during 2017. No matter what place I am in I have never felt a stronger community than Athens," Nissan said. "The locals here have a rich history with the town's character. You will never meet a person who says they hate Athens."
The Athens community helped Nissan to gain more confidence and understanding in her work as an artist. Nissan also said that living in Athens provided her with a break from the cultural discrimination that she has face all her life as someone of Assyrian-Iraqi background.
"When I first started my academic career here as an artist I had no confidence in my art and didn't understand it. But the people here, my professors, and the community saw something I didn't," Nissan said. "Athens just said yes, we accept you, as is."
Attending UGA helped Nissan to meet some life changing professors that mentored her and helped her transition from a student making art into an artist and they continue to help her through the difficulties of being an artist.
"We spent countless hours discussing the philosophies of life as an artist. They didn't play pretend with me, they prepared me for the difficulties that would come with being an artist and believing in yourself continuously," Nissan said. "Whenever I would find myself depressed in Italy and with my art, I would reread their recommendation letters written for me for grad school. Sometimes you meet a person that changes everything. I met three."
Associate professor of art, Chris Hocking, remembers Nissan and says that the two still keep in touch even though Nissan is currently all the way in Italy. He describes Nissan as ambitious talented and a hard worker. Hocking says that the project sounds great but that he doesn't know much about it or how it looks.
"I think it's supposed to be an installation size work which means it's going to be a very large kind of room sized piece but it trying to tie everybody in through smell and touch sight proximity to the piece so it's going to serve as a nice metaphor," Hacking said. "The most interesting part is how it evolves and how she's developing as a person and as an artist."
Whether he knows it or not Hocking played a huge role in Nissan's project because the idea to use filters came from a conversation that she had with him at Walker's Coffee Shop and Pub in Athens.
"My previous installation was expensive and I needed to use cheaper materials. He looked at my tea bag and suggested filters," Nissan said. "That idea planted the seed and it evolved. I had no idea the project would turn into my master's thesis."
The main focus of Nissan's project is to merge one part of her personality with another hence why she is using coffee and tea filters from both Athens and Florence.
"Athens and Italy have been major landmarks in my identity and I wanted to merge these two parts of me together," Nissan said.
Another aspect of the project is incorporating the community. Nissan has collected filters from 14 different local Athens restaurants for her project. Currently more than 1,000 people have unknowingly helped Nissan with her project.
"Each tea urn requires 80 people to drink from it. Each coffee pot requires 20 people, a total of 6,000 people that have helped this art piece in the communities. My goal is 10,000 collaborators," Nissan said.
Brittany Warnock, general manager at the Iron Factory in Athens and a close friend of Nissan's, helped her to collect filters while Nissan was still in Athens.
"It was really cool to see her brining kind of bringing her heart into Italy a little bit by using these little bits of Athens and kind of putting them all together," Warnock said.
She is excited to see the final piece and has nothing but kind words to say about the artist.
"If you've ever met Maria she has a very big personality and her art is like that too its very big and it's very in your face kind of and so I'm sure her professors over there in Italy are thrilled to have her because I'm sure she adds something that they've never seen before and I'm proud that she comes from Georgia," Warnock said.
A challenge that Nissan has face with her project is getting the word out. Social media has helped but she still needs help to reach her goal of having 10,000 collaborators involved.
"I am asking all local restaurants who would be willing to participate to please contact me," Nissan said. "This project is constantly evolving and I am sure my next trip to Athens will contribute to its growth."