First Baptism in 150 Years At Turkish Church
Posted 2017-07-31 16:55 GMT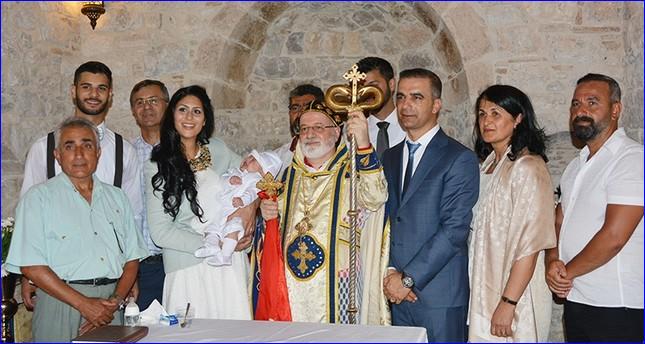 A Baptism ceremony has taken place at a chapel located near the ancient Temple of Apollo in Turkey's southwestern Aydın province for the first time after 150 years.
According to reports, the son of Assyrian businessman Enlil Simon Afram was baptized at the 300-year-old chapel, located in Aydın's Didim district.
The Metropolitan Bishop of Mardin and Diyarbakır Saliba Özmen performed the baptism.
He noted that he led couple's wedding ceremony two years ago at a Greek Orthodox Church in Didim.
The bishop added that they are happy about Assyrians coming to Didim rather than going to Europe.
"We are extremely pleased that Assyrians, who are one of the oldest Christian groups in Turkey, choose to come here and have their wedding and baptism ceremonies here" Özmen added.
Meanwhile, the Assyrian businessman Afram said that his family, who are originally from Midyat, left Europe and arrived in Didim seven years ago.
"The government has encouraged us to return home and we decided to come to our homeland rather than going to Greece" Afram said, adding that he hopes more Assyrian families have their wedding and baptism ceremonies in Didim.
The 300-year-old chapel, which is very close to the Temple of Apollo, was restored in 2015. It offers Sunday mass and allows Christians to pray inside.
Minorities in Turkey had long been treated as second-class citizens in the 20th century. The government's democratization package announced a few years ago looks to change the state's view of minorities and restore the rights denied them. Then prime minister and current president, Recep Tayyip Erdoğan, announced in 2011 that hundreds of properties that were confiscated from minorities over the years would be returned and compensation would be paid for properties the state later sold to third parties.