Toronto and the Assyrian Film Producer
By Richard W. Hiebert
Posted 2017-06-19 22:29 GMT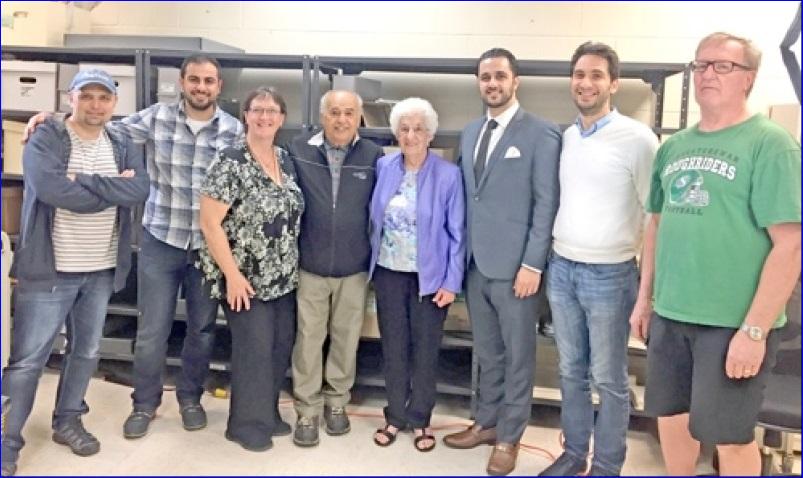 On Wednesday, May 3, City Archivist Tammy Donahue Buziak phoned me to tell me that a film producer in Toronto wanted to meet me. Really. I couldn't imagine why. It was because I've done research and written on the Assyrian pioneers who migrated here from Persia (Iran and Turkey) in 1903 and 1906. I determined later that he was more interested in meeting and interviewing some descendants of the Assyrian settlers.
At 10:30 a.m. on Friday, May 12, Tammy and I met with producer Aneki Nissan and his film crew, all of whom were of Assyrian ancestry except for the video and sound man, Dmitry Burenok from St. Petersburg, Russia (apparently he was the top cinematographer in Canada). He spoke with a thick Russian accent but he was easily understood and we got along famously. Fadi Dawood disclosed that he had a Ph.D in Assyrian history. So we were able to compare notes on history and university life. We had a great discussion.
Aneki and I had a nice chat but no commitments were made. As I said, it seemed clear to me that the primary reason for Aneki's and his crew's visit to the Battlefords was to document the Assyrian history of this region. So a full length documentary on Assyrian settlement in the Battlefords and Canada (Assyrians also settled in Montreal, Thunder Bay, St. Catherine's and other places in Canada) is in the making. Aneki got most of his information from videotaped interviews with Margaret Beach (a descendent of the first Assyrian settlers in the area) and Don Backus.
Lunchtime. My van was the lead vehicle. Don and Margaret rode with me and the rest followed in a rented car. Our new friends were interested in First Nations cuisine, so we went to the Kihiw Restaurant at the Gold Eagle Casino. The buffalo burgers were great and Aneki and his crew were impressed. They were even more impressed when Don picked up the check.
Our next stop was at St. Andrew's Presbyterian Church on 13th Avenue and 98th Street. Actually, it was more than a stop. The film crew videotaped all of the stained glass windows (south, north, east sides) dedicated to the Assyrian settlers. Add to that, Margaret's and Don's commentary and it took about two hours.
Next we visited Don Backus' and Margaret Beach's childhood family homes on 104th Street. The group did a walkabout, pictures were taken and we headed for the North Battleford graveyard.
We spent all of our time in the old section of the graveyard on the east side. The pioneer Assyrian graves, and the graves of Assyrians who died since, are located throughout the length and breadth of the cemetery. It seems to me that Don and Margaret found them all and the film crew got all of them on tape. Aneki had many questions, and Don and Margaret had most of the answers.
When the graveyard tour came to an end, the day was over. Our Assyrian friends thanked us profusely. We said our goodbyes and departed (we thought that the entire day had been extraordinary). But it wasn't a final goodbye.
The next day, May 13, Margaret and the film crew drove to Warman on the occasion of Margaret's daughter's (Cathy) birthday celebration. Margaret and her family were interviewed. Then Akeni and his group drove back to North Battleford to interview Chris Odishaw, David George and Tim Yonan.
Margaret made note of the fact that Aneki did not start from scratch when he arrived in North Battleford. He already had some information on the Assyrians' 100th anniversary celebrations in 2003. He must have got it from the website. And interestingly, the project was originally to document Canadian Assyrians service in the two great global conflicts. For example, Joe Backus was killed in World War II. He was only in his twenties.
So, it seems that Aneki's initiative will likely be a comprehensive account of Assyrian history in Canada. We can all look forward to a wonderful television documentary on Assyrians in our great nation.