City Honors Assyrian-American Veteran
Posted 2016-03-29 19:51 GMT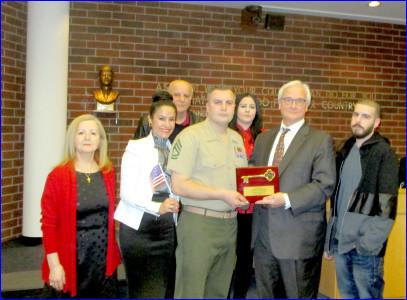 The village of Niles Board of Trustee recently presented Niles veteran Edmon Akhteebo with a key to the city.
According to the village proclamation, Akhteebo joined the Marines in 1996, serving for almost 20 years. Between 2001 and 2009, he was deployed three times in Afghanistan and two times in Iraq.
During the course of his service, he earned a number of awards, including combat action ribbons for Iraq and Afghanistan, a Navy and Marine Corps Achievement Medal, Navy and Marine Corps Commendation Medal, an Operation Iraqi Freedom Medal, Operation Enduring Freedom Medal, and a Global War on Terrorism Medal.
Akheteebo was honorably discharged in February 2015.
The Assyrian people are an ethnic minority group that have traditionally lived in what is now northern Iraq, northeastern Turkey, northwestern Iran and northeastern Syria.
They were one of the first non-Jewish ethnic groups to convert to Christianity. The Arabic conquest reduced them to a religious minority, and the subsequent centuries saw periods of toleration and periods of discrimination and persecution.
Concerns about persecution against Assyrians were in the news again in recent years, as the Islamic State and other Islamic extremist groups attacked Assyrian cities in Iraq and Syria, sending tens of thousands fleeing the war-torn countries.
Friends and family attended the March 22 ceremony in numbers large enough to fill a decent portion of the village hall seating area. Akhteebo thanked them, saying that their support was very important to him while he served.
"I can't say 'thank you' enough for being here," he said.
Akhteebo added that he was very proud to be a part of the Assyrian-American community.