Nearly a Century in Gary
By Jeff Manes
Posted 2016-03-01 02:54 GMT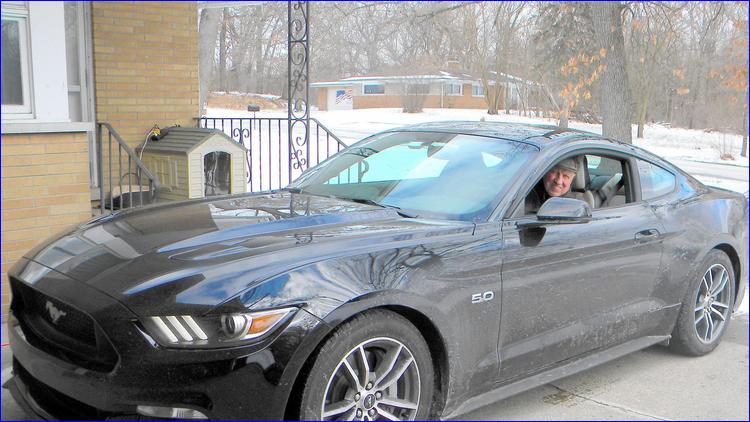 Robert Joseph, 92, drives a souped-up 2015 Ford Mustang, lives in the Calumet Township area of Gary and is of Assyrian descent.
It wasn't until our interview was 75 percent complete that I realized I had been talking to the guy who coached Calumet High School's football team for decades.
"In 1977, I took the family to Italy," Joseph began. "I had never been there. I couldn't get over how gracious the people were. It all boils down to how gracious are you? If your attitude is pleasant, you get that in return.
"I went back to Italy in '84 and '88. My in-laws were from Venice. My late wife's maiden name was Largura. Her mother's side of the family came from a little town almost on the Austrian border. They said that if you had chickens, you'd have to put a sack on the back end of them, otherwise the eggs would roll down the mountain."
Ha! Good one. Mr. Joseph, you don't look a day over 70.
"I've always been in involved in exercise, even to this day. But not a vigorous way that I used to. The best exercise is jogging -- cardiovascular. I ran until I was 68. My knee went out on me. I have a stationary bike that I work out on now."
Where were you born?
"Gary. I was raised on the east side in the Emerson school district. Emerson is the oldest school in the area -- 1906. I went to school with Karl Malden's brother Dan. Gary was quite a mixture of people. On the east side, we had a lot of Irish. St. Luke's was quite a church in those days."
Are you an Irish-Catholic?
"I'm Assyrian. The Assyrians are going by the wayside. There were a lot of Assyrians in Iraq, but they have been practically eliminated. The Assyrians who are being wiped out by ISIS are Orthodox Christians.
"Jesus Christ spoke the language that the Assyrians had -- Aramaic. God, in the Assyrian language is El. When Jesus was dying on the cross, he cried out: 'Eli, Eli, why have you forsaken me?'"
Are you fluent in the Assyrian language?
"Absolutely."
"And about the ninth hour, Jesus cried with a loud voice, saying, Eli, Eli, lama sabachthani?, that is to say, My God, my God, why hast thou forsaken me?" -- -Matthew 27:46
Gary in the 1930s?
"Everybody walked. Virginia Street was a thoroughfare for people going to the mill. You had a lot of Slavic people who rode their bikes with their lunch buckets going north to the steel mills. I remember a place on West 5th Avenue called Hannah's where they would sell you ice cream for a nickel -- three scoops.
"Downtown Gary was like wonderland. From 5th Avenue to 8th Avenue on Broadway was a marvelous stretch. You had all the stores, pool rooms, taverns, restaurants. Gary was quite a town in the old days. There were a lot of Jewish people who lived downtown because Temple Beth-El was downtown. People tended to live near their churches because they couldn't afford automobiles. We had Serbs, Polish, Greeks. In the early days, the wealth was on the west side of Gary; the east side was blue-collar."
"During the Depression, when people didn't have jobs, they'd come to your house, knock on your door, and say: 'I haven't eaten. Is there anything you can give me?' People would always give what they could. There wasn't the crime you have today. We had nothing. But there was no crime."
What did your father do for a living?
"He was a bricklayer for Inland Steel. Molten steel splashed out of a ladle and killed him and two others."
At Local 1010's union hall, there's a wall that lists the names of all Steelworkers who have been killed on the job at Inland Steel.
"Absalom Joseph's name is on that wall."
In the Bible, Absalom was the third son of David. He, too, was killed.
"Many Assyrians have biblical names."
Were your parents born in this country?
"No, they were born in Iran. All Assyrians are Christians. At one time, the Assyrian empire controlled more land than any other country. They controlled what is now Israel and Egypt . What happened was, the Babylonians got together and overcame the Assyrians. But that was 5,000 years ago."
All this fascinates me. You're actually the third Assyrian I've interviewed in the past 11 years. I forgot to ask you, what did you do for a living?
"I was a teacher, coach and principal at Calumet High School for 44 years."
Really?
"Yes, I taught some science, but was the principal and football coach, mostly. I retired in 1990. In retirement, I was a school board member for about 12 years."
A couple of my friends who have appeared in this column went to Calumet, Jim Chancellor and Willie Jackson.
"I remember Chancellor well."
After playing linebacker for the Calumet Warriors, Jim was a machine gunner in Vietnam. His helicopter was shot down. Chancellor was awarded a heroism medal for valor and a Purple Heart. I worked at Inland Steel with Willie. One of our best friends was killed in the mill on March 16, 2001. Willie came down to my hometown of Lake Village for the funeral.
"Jackson came from the Small Farms (neighborhood of Gary). Willie was a very good basketball player. Calumet was a blue-collar school just like Emerson was when I went there. When we played Andrean, we beat the hell out of them. We had black kids, Hispanic kids and hillbillies. I loved them all.
"You see, after World War II, we had a big influx of people from the South. There were motor homes all over Black Oak (neighborhood of Gary). Little by little, they moved into houses or went back to the South."
I also interviewed former Hammond High football coach Bernie Kreugar for this column.
"Bernie was not only a great coach, he was a great athlete for Hammond High, as well. He was a halfback. When I played for Emerson, we played against Hammond High.. They were known for their unstoppable reverse. Well, I was so fat and slow, I didn't follow the fake. So when the halfback came back around, I was there waitin' on Kreugar. We beat 'em, by the way."
Its been said the rich would have to eat money if the poor didn't provide food. More often than not, it seems, our wars are fought and our steel is made by guys like the ones from Black Oak who played football for Coach Joseph.
Last October, Indiana University's 1945 football team had a reunion celebrating the 70th anniversary of their undefeated season and Big Ten championship. Only four players from that team survive.
One of them is Robert Joseph of Gary.