Assyria At Mardi Gras
By Keith Spera|
Posted 2016-01-31 00:46 GMT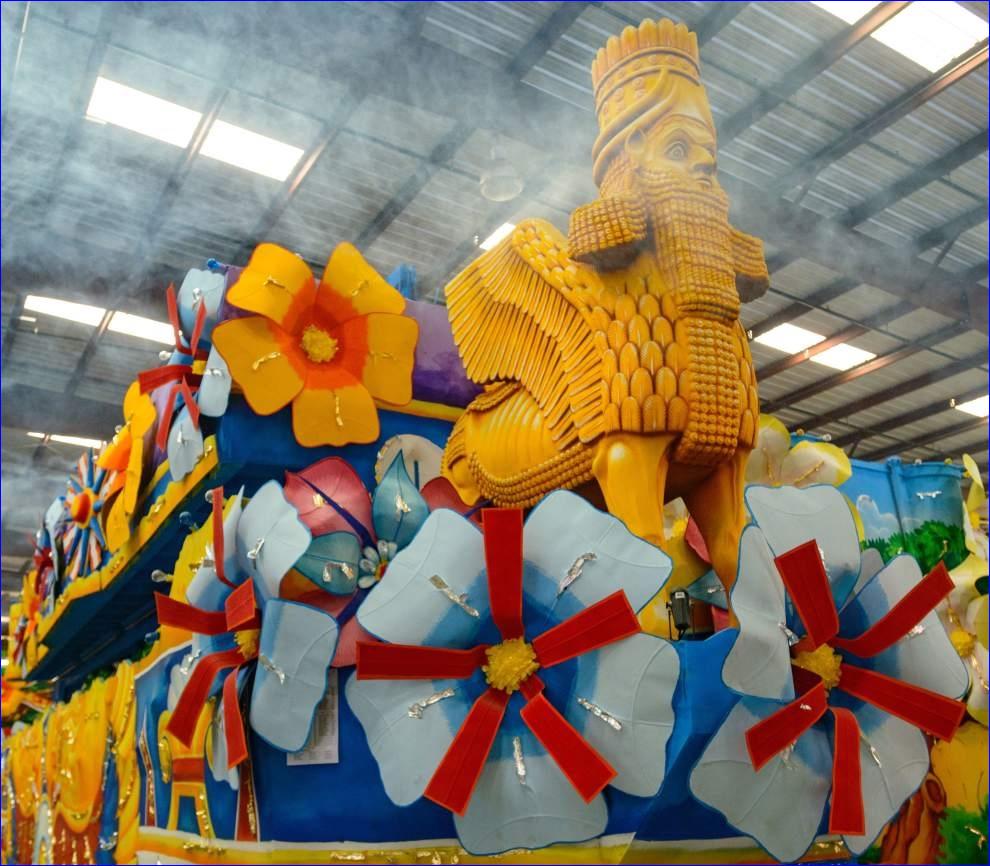 As might be expected from a Mardi Gras organization celebrating its 50th anniversary, the 2016 Endymion parade will take a long look back at its history. In keeping with this year's theme, "Endymion Through the Years," individual floats will illustrate past themes.
Endymion rolls at 4:15 p.m. on Feb. 6. Last weekend, many of the 3,000-plus krewe members and their families got their first look at the 2016 floats parked inside the Endymion den, just off Howard Avenue. They include a float depicting the theme of the inaugural Endymion parade in 1967, "Take Me Out to the Ball Game." 2015's "Fantastic Voyages" is represented by the same float from last year that shows a giant squid attacking a submarine a la Jules Verne's "20,000 Leagues Under the Sea."
Other throwback themes represented include "Happily Ever After," "Broadway on Parade," "American Masters" and "Endymion's Rockumentary." That latter category likely explains the float featuring larger-than-life depictions of Kiss' Gene Simmons, Paul Stanley, Ace Frehley and Peter Criss, in full make-up.
Fun fact: members of Kiss were supposed to ride in the 1979 Endymion as grand marshals. But a police strike that year canceled Carnival in Orleans Parish. Endymion moved to Kenner but, alas, Simmons and company chose not to ride. Endymion founder Ed Muniz, who is still the krewe's captain, took Simmons out to dinner in Metairie anyway. At one point, Simmons put his girlfriend at the time, Cher, on the phone with Muniz.
In 2015, Endymion premiered its new "E-TV" float, essentially a 20' by 8' rolling video wall that projects images of the crowd watching it pass by. Large video screens will turn up on another new float this year, "Club Endymion." It features a replica of the Mercedes-Benz Superdome, the longtime home of Endymion's post-parade Endymion Extravaganza. Screens aboard "Club Endymion" will show footage of Aerosmith frontman Steven Tyler and Latin rapper Pitbull, the featured entertainers for the 2016 Extravaganza.
Float builder Barry Kern, who oversees construction of the Endymion fleet, was on hand during last weekend's krewe preview to talk up the innovations, both aesthetic and practical.
"This whole parade is unbelievable," Kern said. "When you think about where it came from and what it represents now... Not only the size, but the whole spectacle of it -- the lighting, the props, the throws."
For 2016, the Endymion organization spent a small fortune to upgrade the fiber optics and other lighting on floats. Of course, given Endymion's 4 p.m. start time, the lighting effects are lost on many spectators.
"It's still light when I get to Claiborne and Canal," Muniz said. "I cringe, with all that money we spend on lights."
Breakdowns along the parade route are far less common now that Endymion uses solid rubber tires and heavy-duty chassis capable of supporting 30 tons of float, riders and throws.
"If they're properly maintained," Kern said, "these floats will be around 100 years from now."
By then, the lights will likley be even brighter.