A New Kindergarten Breathes Life Into a Devastated Assyrian Community in Iraq
By Kevin Clarke
Posted 2018-10-05 19:06 GMT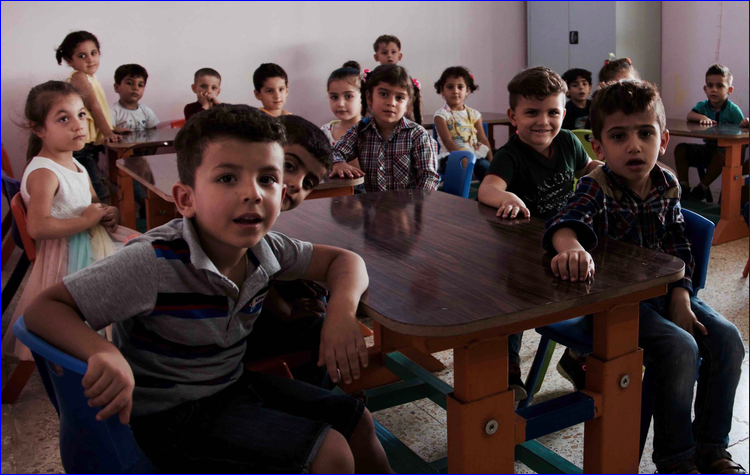 Many of the children in this kindergarten in Qaraqosh, Iraq, were infants when Daesh stormed this Christian city in the early morning hours of Aug. 7, 2014. They are lucky that way at least; they will never remember the night of terror their parents and other family members experienced as they fled the city. Hundreds of families, more than 200,000 from villages across the Nineveh Plains, escaped in those frantic hours--some just minutes ahead of Daesh, as everyone in this city near the border with Iraqi Kurdistan calls the Islamic militants known as ISIS in the West. They fled packed in cars and trucks; less fortunate ones fled on foot.
Now, 17 months after the first of Qaraqosh's wary residents returned to their old homes and a city in near ruin, the stores in the city center are open for business and families are out in the welcome cool of the early evening. They are shopping, heading to restaurants, arguing with friends or just enjoying a stroll. They must take care to avoid the construction debris all over the streets and sidewalks of the Iraqi city.
There are so many signs of life in this community, like these schoolchildren. Qaraqosh is clearly breathing again, just as clearly as its many smoke-blackened homes, demolished shops and defaced churches attest that much more work lies ahead.
The kindergarten is sponsored by the Jesuit Refugee Service, which selected a site for the school near a low-income family apartment complex that is supported by the Syriac Catholic Church. J.R.S.-Iraq hopes to give the children of these poor families a decent start in life and a walkable location to begin their education.
Read the full story here.