The U.S. Needs to Remain Engaged in Iraq to Help Religious Minorities
By Jeff Fortenberry
Posted 2018-09-12 21:42 GMT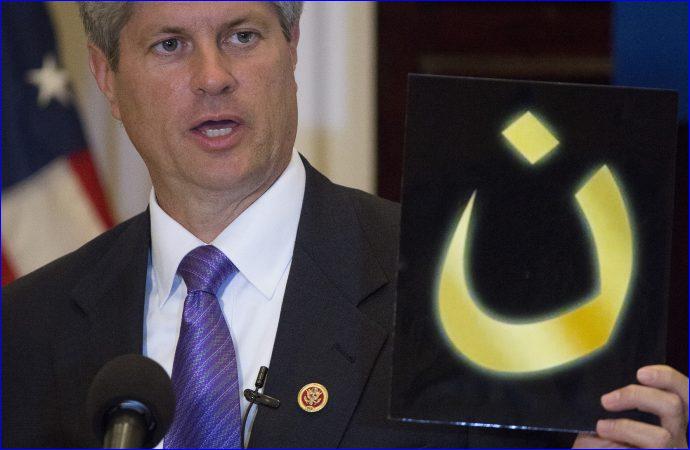 In 2014, Nibras Khudaida was a 16-year-old Yazidi girl living in the tight-knit, 500-person village of Sreshka in northern Iraq. That area had long known peaceful coexistence among the diverse ethnic and religious groups that, for millennia, had called the broader Nineveh Plain region home. Life's routines had essentially been the same for centuries. Children received a basic education and married at an early age. Men worked in the fields. Women took care of the family.
One day, that world suddenly ended for Nibras. She had just finished high school for the semester and was celebrating being named "student of the year." As she walked home, she saw crowds of people fleeing the village; she heard screaming and children crying. Her friends started running to find their families. As Nibras put it, "We knew ISIS was coming, but now they were only two miles from the doorstep of our village."
Nibras's family only had time to grab their passports and IDs. "Twelve people piled into our small car, many climbed on the roof," she told me. "A lot of other people just ran."
Ultimately, Nibras and her family ended up in the city of Erbil, where their situation stabilized. But since Nibras's father had provided logistical support for U.S. forces stationed in Iraq, her family remained on the hit lists of various terror groups. At the all-girls school in Erbil that Nibras attended, she was verbally and physically bullied because of her Yazidi faith. Due to her father's service to the U.S. military, Nibras and her family were eventually able to come to the United States. Today, she and her family are safely woven into the diverse fabric of Lincoln, Neb., home to the largest community of Yazidis in the United States.
In April, Nibras made it to the quarterfinals of the Nebraska State Debate Championship. After her triumph, Nibras cried: "God loves me! God loves me!" Three years ago, Nibras did not speak a word of English, but this spring she delivered a valedictorian address in front of thousands of people at her high school graduation. This fall, she will be the first in her family to attend college--Creighton University in Omaha.
Today, there are many Yazidis still trapped inside Iraq who are not as fortunate as Nibras. Some 400,000 Yazidis are internally displaced persons in their own land, too terrified to return to their homes. A little known fact: Some 3,500 Yazidi women remain captives of ISIS.
During a recent trip to Iraq, I met with three women who had been ransomed out of ISIS. They had all been sold into sexual slavery multiple times. I made these notes to myself: "The women are sad; they sit across from me but stare into the distance; their faces are fallen--they have no joy." The female Yazidi medical doctor with them said to me, "It is really easy to rebuild a building, but really hard to rebuild a human being."
The United States has given so much and lost so much in Iraq that it can be hard to understand why engagement is still necessary. But as beleaguered religious minorities in Iraq hang on for their very survival, the survival of religious pluralism itself is now at stake. Christians in Iraq used to total 1.5 million. Now, only a few hundred thousand remain. Entire villages that thrived for over 1,000 years have been decimated as the indigenous Christian, Yazidi and Shabak Muslim populations fled the ISIS advance.
The prospect of continued and unprecedented exodus is real. If this happens, Iraq risks the permanent loss of its ancient religious tapestry. In addition, Iran will continue to expand its influence, permanent refugee camps will likely dot the landscape, migration pressures will stress international aid systems, and ISIS could regenerate.
Despite the situation's fragility, limited progress is being made. I witnessed courageous acts of ecumenical alliance and revitalization in the Nineveh Plain, often with the help of the United States, faith-based entities, and international organizations. As important as aid is to meeting humanitarian needs, to create lasting success an additional security footprint is urgently required in the Nineveh Plain and Sinjar. To quickly meet this objective, I have proposed that we pursue a multinational training mission, in concert with the strengthened forces of the Iraq Central Government and the Peshmerga, integrating local indigenous people. The tandem effect of improved security and a redefined aid package will greatly enhance the likelihood of sustainable outcomes.
I was proud that Nibras Khudaida served as an intern in our Nebraska office. When she left for college, she wrote this to me: "I still remember the first time I saw you at the Yazidi New Year. Most of us were waiting for someone to tell us that everything would be all right, someone to give us hope again." For Nibras, war is not some debate abstraction. She fled for her life. She lost her homeland. And she carries those painful memories with her every day.
Representative Jeff Fortenberry, a Republican from Nebraska, is a member of the U.S. House Appropriations Committee and is the chairman of its Subcommittee on the Legislative Branch. He is also the co-chair of the Religious Minorities in the Middle East Caucus.