Are the Kurds of Iraq and Syria About to Reconcile?
By Paul Iddon
Posted 2018-06-05 23:18 GMT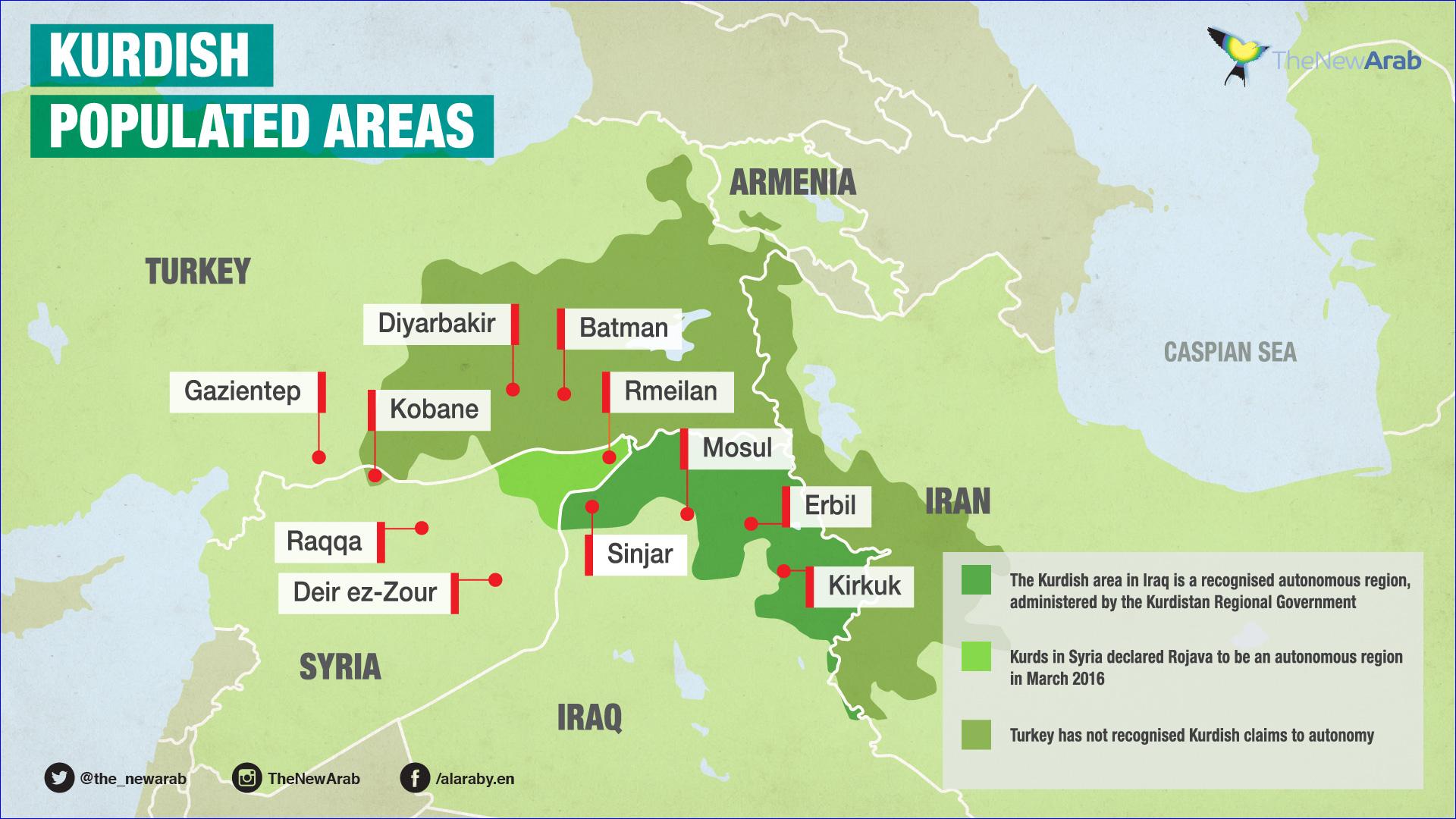 A delegation from Syrian Kurdish-held territories recently met with Kurdistan Regional Government (KRG) officials in Iraqi Kurdistan to discuss repairing relations between Syria's Democratic Union Party (PYD) and the Kurdistan National Council (KNC) - which is supported by the KRG but has long been repressed by the PYD.
Aldar Khalil, a senior official in Syria's Kurdish administration - known by Kurds as Rojava - visited Erbil in May to discuss the issue and reportedly agreed that KNC prisoners held in Syria "should be released as a gesture of goodwill for future meetings between the Kurdish parties in Rojava".
It's unclear at this early stage if this meeting will lead to any significant thaw or normalisation in relations between the KRG and the PYD, which have been strained for many years.
"My sense is this is a genuine effort to mend fences because both sides really need it," David Pollock, the Kaufman Fellow at the Washington Institute think-tank, told The New Arab. "But it's just the first step in a tough obstacle course."
Between 2012 and 2014 the KRG hosted three meetings to try and resolve their differences with the PYD. Those efforts ultimately failed. The KRG also trained a sizeable fighting-force of Syrian Kurds, known as the Rojava Peshmerga, for deployment in northern Syria, but they have long been denied entry by the PYD whose own People's Protection Units and Women's Protection Units (YPG and YPJ), along with the larger Kurdish-controlled Syrian Democratic Forces (SDF), are the only local armed forces permitted to operate.
"I'd also say the 2012 Erbil Agreement was successful and important in one respect, even if it did not unify the Kurds, and that is the fact the PYD committed not to attack Turkey, and it has kept that pledge, even though Ankara claims otherwise," Pollock added.
"That still has to be the basis of any lasting new accord, since the KRG counts on good ties with Turkey," he concluded.
The Iraqi Kurds, especially the Kurdistan Democratic Party (KDP), have maintained cordial ties with Turkey for about a decade. Turkey charges that the PYD is simply the Syrian branch of the outlawed Kurdistan Workers' Party (PKK) militant group and has consequently attacked them on numerous occasions, most notably invading Syria's isolated northwestern Afrin canton earlier this year.
Lawk Ghafuri, a Kurdish political writer, is optimistic about the recent meeting and believes it could herald stronger cross-border Kurdish ties.
"The meeting between KRG and PYD is very important at the moment for both Kurdish sides to normalise the relations between them and also create strong relations between Rojava's parties to prevent any external hands from interfering in Rojava affairs," Ghafuri told The New Arab.
"I think following Iraqi Kurdistan's independence referendum and the Afrin operation by Turkey, both the KRG and PYD realised that they are weak without each other."
Abdulsalam Ahmed, the co-chair of the diplomatic relations department for the Syrian Kurdish administration, recently told Iraqi Kurdistan's Rudaw news agency: "The interests of the Kurdish nation today requires that, even if we are weak politically, we have to come together because we prioritise national interests over personal or party interests."
Ghafuri says that Brett McGurk, the US special envoy to the US-led anti-Islamic State coalition, met with Iraqi Kurdistan's former President Masoud Barzani and discussed, among other things, "normalising the relations between KRG and PYD".
"As now the US presence in Rojava needs to be bolstered by opening the borders between Rojava and KRG and be supported by KRG.
"Kurds in Rojava and Iraqi Kurdistan are both entering into a new era of relations after seeing the true faces of the Kurds' neighbours," he concluded.
However, there remain major obstacles to normalisation, which may yet prove too difficult to overcome.
Abdulla Hawez, an independent Kurdish affairs analyst, believes that this latest effort to mend KRG-PYD relations "seems to be more serious, but I don't think relations will become 'normalised'.
"The PYD didn't accept the Erbil or Duhok Agreements when it was much weaker, now that it is much stronger it wouldn't even accept it on paper, so KNC knows equal partnership is too late to happen," Hawez told The New Arab.
"There is only one way for the KNC to normalise relations with PYD," he added. "That is by accepting to be active politically within the Self Administration of Rojava, which is based on Ocalan's ideology."
Hawez was referring to Abdulla Ocalan, the imprisoned leader of the PKK, who has promulgated a libertarian-socialist political system known as Democratic Confederalism, which the PYD implements in areas of northern Syria under its control through the Movement for a Democratic Society, also known as TEV-DEM.
"This basically means the KNC will have to concede to the PYD by recognising their system and accept to be co-opted within the regime of Rojava," Hawez said.
"So I don't think any normalisation would happen because the PYD wouldn't accept anything less than that and the KNC getting an official licence to operate in the region," he concluded. "The KNC wouldn't want to do that because it means recognizing the PYD's rule, which it has been against."