Russians Dead in Battle in Syria's East
Posted 2018-02-13 00:13 GMT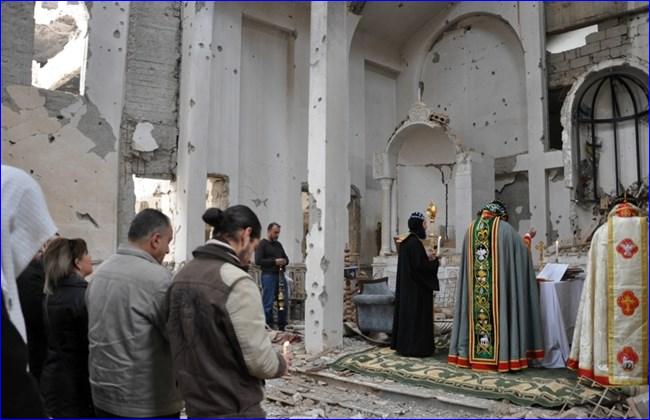 (AFP) -- Russian nationals died last week in eastern Syria, where a U.S.-led coalition bombed pro-regime fighters to fend off an attack on its local allies, groups representing them said Monday.
Vladimir Loginov, a 52-year-old from Russia's western Kaliningrad region "died in an unequal battle in the area of Syria's Deir al-Zor," according to a statement by the Baltic Cossack Union in Kaliningrad.
The statement said Loginov was "heroically defending our Motherland in its far reaches from crazy savages" when he was killed on Feb. 7.
The local Cossack ataman (leader) Maksim Buga told AFP that Loginov had been a sapper working in Syria as a volunteer with other Cossacks since late last year.
Buga could not explain the exact circumstances of the "battle," but it happened the same day the U.S.-led coalition killed at least 100 regime and allied fighters in Deir al-Zor province, after positions held by the Kurdish-led Syrian Democratic Forces were attacked by pro-regime fighters.
At the time of the attack, the Russian defense ministry said "there are no Russian servicemen in Deir al-Zor".
However, many Russian citizens are fighting in Syria as mercenaries working for a private military company called Wagner, according to numerous reports.
Another Russian, Kirill Ananyev, was also killed in Syria on Feb. 7, the nationalist Other Russia organization said on its VK social networking page.
Ananyev was killed "in battle on the Euphrates near the Syrian town Khsham," the group said.
Buga said he "cannot say" whether Loginov fought for Wagner, though he said he "probably received payments" for his "volunteer" involvement.
"Our Cossacks are there as part of a volunteer group," he told AFP.
Cossacks are a paramilitary pro-Russian association dating back to tsarist times.
In October, two Russian citizens were captured by the Daesh (ISIS) group, their respective paramilitary associations said. A brother of one of the men said he was in Syria with Wagner.
Their fate is unknown.
Conflict Intelligence Team, which monitors social networks for information about Russians in Syria, said at least three other Russians also died in Deir al-Zor on Feb. 7.
Russian liberal presidential candidate Grigory Yavlinsky Monday called on President Vladimir Putin to explain why many Russians appear to have died in clashes last week.
"If massive Russian casualties took place, then relevant officials ... must announce this to the country and find out who is responsible," Yavlinsky, who is running on the ticket of the opposition Yabloko party in the March polls, wrote on Facebook.
"I demand to explain why Russian citizens are participating in ground operations in Syria despite declarations by the president and defense minister about the pullout of troops from this country," he wrote.
The Russian military has fought a campaign for over two years in Syria, launched in September 2015 in support of Syrian President Bashar Assad, helping to turn around the multi-front war.
Putin said in December that Moscow's military brief in the Syrian conflict has been largely completed and ordered a partial pullout of the country's troops.